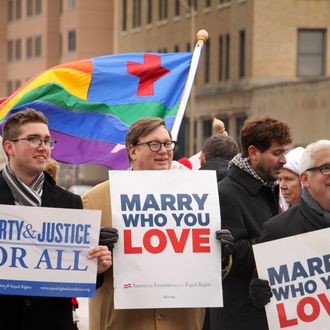 Photo: Jay Paul/2014 Getty Images
Following the Supreme Court's refusal yesterday to take up any gay-marriage cases — meaning state bans struck down as unconstitutional by lower courts are staying that way — the Ninth Circuit agreed with the recent wave of rulings. Same-sex marriage bans in Nevada and Idaho were struck down today by a court in San Francisco, with the ruling covering the Ninth Circuit states of Alaska, Arizona, and Montana, as well. But the real win is in the footnotes.
In response to claims by Idaho Governor Butch Otter and the Nevada Coalition to Protect Marriage that equality will make the institution of marriage "more adult-centric and less child-centric," Judge Stephen Reinhardt writes:   
[Otter] also states, in conclusory fashion, that allowing same-sex marriage will lead opposite-sex couples to abuse alcohol and drugs, engage in extramarital affairs, take on demanding work schedules, and participate in time-consuming hobbies. We seriously doubt that allowing committed same-sex couples to settle down in legally recognized marriages will drive opposite-sex couples to sex, drugs,and rock-and-roll.
But if it does, more power to them.