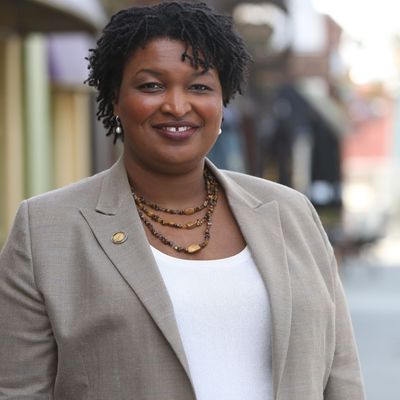 Stacey Abrams engineered Georgia's largest voter-registration drive in at least 50 years.
Last month, the woman behind a massive effort to transform Georgia from a GOP stronghold to a potential swing state this year got news she wasn't expecting — her wildly successful voter-registration effort was being investigated for fraud. Now, two weeks before the election, she's locked in a fight with the state's election officials to make sure the people she registered are able to turn out on Election Day. Whether they're able to cast ballots could have major implications for the election. Both Michelle Nunn, the Democratic Senate candidate, and Jason Carter, the candidate for governor, are in extremely close races. The voter registration effort sought out mostly minority voters, and those voters tend to pick Democrats. In a close contest, their participation could determine whether the Democrats win.
Stacey Abrams, the engineer of the effort, is a star in Georgia politics: In 2006, at the age of 32, she ran for Georgia's House of Representatives; four years later, she became the chamber's Minority Leader, making her the first African-American to lead the House and the first woman to lead a party in either chamber. One of six children born to a librarian and a shipbuilder, both of whom later became ministers, her parents sometimes struggled to pay bills while putting their daughter through debate camp. The public-service message was drilled into her from a very young age. "My parents were really annoying that way. We were working poor growing up, we didn't have a lot," she says. "It's hard to argue with someone who has full load — a full-time job, six kids — and still volunteers at a soup kitchen or homeless shelter." She has the résumé of a relentless overachiever: degrees from Spelman College, the LBJ School of Public Affairs, and Yale Law School; founding credits for multiple nonprofits and for-profit consulting firms, including a nutrition company for infants and toddlers; author credits for eight sexy thriller novels, written under her pen name, Selena Montgomery.
Georgia's legislature is part-time; one of Abrams's many other hats is running a nonprofit that acts as a consulting firm for small, charitable organizations. That work positioned her to see the massive change in demographics taking place in Georgia — the population of the state has increased by 18 percent over the last decade, and many of those new residents are young people and minorities. At the same time, Georgia had a huge number of people — 700,000 to 800,000 African American, Hispanic, and Asian residents — who weren't even registered to vote. Abrams decided to start the New Georgia Project, an offshoot of her nonprofit, which aimed to work with other voter-registration groups and sign up 100,000 new voters before the October 6 registration deadline.
"Stacey did what she does: She had a big vision and put it into action," says Benjamin Jealous, former president of the NAACP, who first met Abrams two decades ago, when they were teenagers working on a campaign to stop Mississippi from turning a historically black university into a prison. The effort was a success. They hired a national firm to run day-to-day canvassing efforts, raised money, and made cute, animated ads encouraging early voting. New Georgia Project, in tandem with roughly a dozen other organizations, registered something close to 107,000 new voters, according to its own estimates. "It's the biggest voter registration effort we've seen in Georgia in decades," he says. "You may have to go back to the 1960s to find a time when more people were signed up in a single effort."
Because her group, Third Sector Development, is a tax-exempt nonprofit, they're prohibited from engaging in political campaigning, so the registration effort was strictly nonpartisan. (Nonprofits are allowed to participate in voter education and registration efforts, as long as they are presented in a nonpartisan manner.) But it's not hard to imagine who would benefit from more women and young people minorities registering to vote — those are exactly the same kinds of voters who made up Obama's winning coalition in 2008 and 2012. Obama lost the state by about 200,000 votes in 2008 and roughly 300,000 in 2012. Get a sizable chunk of those voters registered, and convince enough voters who turned out in the presidential years to show up in a midterm, Jealous showed in a report he did for the Center for American Progress earlier this year, and Democrats might have enough to eke out a win. "If the balance of power shifts in Georgia, many people on both sides will say it has something to do with the fact that more Georgians are voting," he says. "And that's the point, at the end of the day — to make sure all of us can vote, that the politics of our state should reflect the politics of the people in the state."
Democrats in the state can't be seen as coordinating with the nonpartisan effort, but they agree that Abrams's effort to register more voters was important. Bryan Long, executive director of the progressive group Better Georgia, told me that "progressive voters in Georgia are energized and the numbers are growing — that growth is due, in large part, to Stacey Abrams's work with the New Georgia Project. The group has done a tremendous job registering new voters in advance of this close election." Rep. Sanford Bishop, a Democratic Congressman, told me Abrams and her group "have done a phenomenal job of registering thousands and thousands of people to vote, in greater numbers than have been done in the past."
And Rep. John Lewis said that Abrams's group and the others groups they partnered with "engaged in a systematic, aggressive effort to register as many voters as possible." In a close election, he says, "if all of these individuals were registered, they would have the power to change the course of an election."
So, if Nunn, running for retiring Senator Saxby Chambliss's seat against Republican David Perdue, or Carter (grandson of Jimmy) manage to win this year, they will probably owe Abrams a thank-you call. Both are doing better than expected in the polls, and there are even some signs that those numbers might not fully reflect how those shifting demographics might be affecting the campaigns.
Abrams knew before she began that the stakes would be high, and that if they were successful, opponents of the effort would likely try to complain about the registration forms, so she says she called the Republican Secretary of State Brian Kemp in June to tell him about their effort, and Kemp assigned them an investigator. Abrams said they worked with the secretary of state's office to make sure their processes were compliant. "I had a very good working relationship with the secretary of state. As the minority leader, I've worked very close with him at the capital and always had [a] very cordial relationship with him." In September, a few weeks before the registration deadline, Kemp's office announced it was subpoenaing the New Georgia Project for an investigation into suspected voter-registration fraud. The investigation was based on 25 voter-registration forms that were suspected to be fraudulent. "The subpoena was very surprising to me and very disappointing. We'd been working with him on this, but they used our cooperation against us and tried to turn us into villains in this effort, which is deeply problematic," she said. Abrams told me she doesn't want to cast aspersions on the secretary of state's investigation, but plenty of other people were willing to read between the lines. "It was a tactic to try to suppress voter registration and at the same time motivate the Republican base," says Tharon Johnson, co-chair of the Democratic Party's campaign in Georgia.
But that isn't New Georgia Project's only concern: They're also raising flags about 50,000 voter-registration forms they say haven't been processed. On Friday, the national legal group Lawyers' Committee on Civil Rights announced it would sue the secretary of state and five counties because the voters they registered had not turned up on the voter rolls or the list of pending voters who needed to verify their information with the state. If those voters don't end up on the registration rolls, a lot of the effort the group put forth would go to waste. "Democrats have got to continue to encourage the secretary of state to process all of the newly registered voters," Johnson says.
Kemp's office did not respond to a request for comment about the missing forms, but in a fact sheet released about both the investigation and the missing forms, said, "At no time in history has it been easier to register to vote in Georgia than it is right now," and claimed that both complaints about fraudulent forms and responsibility for processing registration applications fell to the county level. "Any backlog would need to be addressed by county election officials," the fact sheet says.
But Kemp was also recorded earlier this year saying, "Democrats are working hard, and all these stories about them, you know, registering all these minority voters that are out there and others that are sitting on the sidelines, if they can do that, they can win these elections in November."  
Abrams says she's going to keep fighting to make sure those voters are at least eligible to vote in November. The mobilization part of it — turning it into victories for Nunn and Carter — falls on the candidates. "Not registering them because I'm afraid I'll be accused of registering Democrats is asinine. I've been minority leader for four years, but I've been a citizen for 40 years. I put that first," Abrams says. "I have a sacred obligation to be invested in this work, and I'm going to keep doing it."