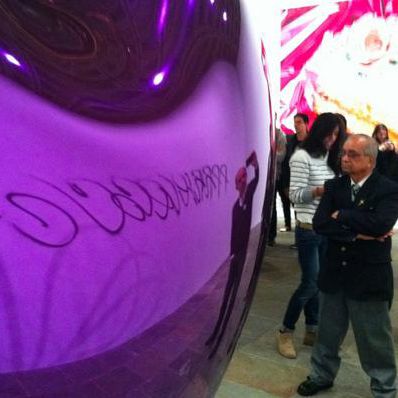 Photo: Scott Heller/Twitter
It's resourceful, at least: Instead of going straight for the million-dollar works, an especially DGAF graffiti artist used the reflective surface of a Koons piece by spray-painting the white Whitney wall next to it. All the better to selfie with.
The attack occurred past midnight on Saturday, during the 36-hour marathon meant to bid farewell to "Jeff Koons: A Retrospective," the final show at the Whitney before the museum moves downtown to the Meatpacking District. The Times has identified the suspect as 33-year-old Christopher Johnson, who was apparently trying to write "PPPriceless," for the crew Peter Pan Posse, but misspelled it.
Johnson was charged with criminal mischief, making graffiti, possession of a graffiti instrument, and criminal nuisance, even though he walked away coolly after the act.
Hanging Heart, the purple sculpture nearby, was unharmed.