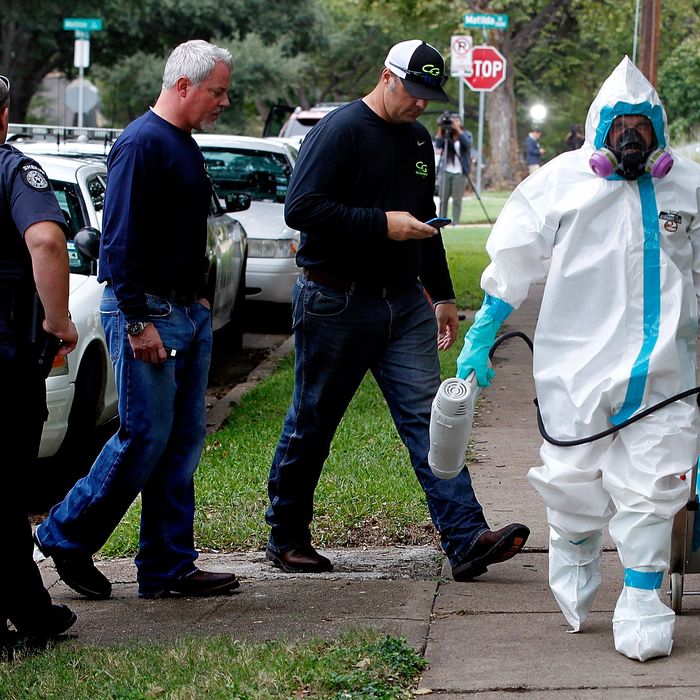 Be afraid?
Photo: Mike Stone/Getty Images
Don't look now, but the bull market just might be over.
Stock markets are dropping around the world, in Japan, Britain, France, Germany, Italy, and the United States. At the same time, investors are fleeing for the safety of bonds, sending yields to new lows. Commodity prices, including oil prices, are down. The dollar has risen against other currencies. Inflation expectations have dropped. The "fear gauge" has jumped.
Granted, trying to explain why stocks are up or down is always something of a fool's errand. But the spread of the deadly Ebola virus appears to be one major factor turning traders pessimistic. "The topic everyone on Wall Street is discussing urgently but quietly isn't the volatile stock market," wrote Andrew Ross Sorkin in the New York Times. "It is Ebola."
You can see it in the headlines, too: "FTSE slides 1% as Ebola fears hit travel companies." "Futures Fail To Rebound On Third U.S. Ebola Case." "Ebola to Alibaba Trigger Debate Over Cause of Stock Slide."
What is it, exactly, that investors are afraid of? Sorkin cites the "grim" numbers from a new World Bank report on the economic impact of the virus. It finds that the disease might slash 2.1 percentage points from growth in Guinea, 3.4 from Liberia, and 3.3 from Sierra Leone. But the countries are so small, the lost output adds up only to $359 million. Even in the worst-case scenario contained in the report — with the epidemic spreading to neighboring countries — the two-year impact totals just $32.6 billion, devastating for the countries involved, but only a hiccup on a continental or global scale.
At least right now, Ebola poses little direct risk to the global economy. It is the fear of Ebola — a fear that the virus might reduce travel, hurt industry, slash trade, or just foment uncertainty — that seems to be rattling the markets.
"Economic consequences also result when fear and concern change behavior," wrote David Kotok of Cumberland Advisors in a research note, as cited by Sorkin. "If consumers and businesses retrench by reducing flights on airplanes, changing vacation plans or altering business connections in a globally interdependent world, G.D.P. growth rates will fall farther."
Other analysts backed that assessment up. "This is, by definition, a situation with an unquantifiable outcome and that it would create market uncertainty should hardly be surprising," wrote Dan Greenhaus of BTIG LLC in a note to clients. "To paraphrase one of our smartest clients, 'If Ebola cases start showing up in other cities, it doesn't matter what earnings do.'"
But the world's investors have more concrete concerns too. To understand those, let's turn to the World Bank's sister institution, the International Monetary Fund. This month, it put out a gloomy update to its global financial forecasts, marking down its estimates of growth in Germany, Italy, Japan, Latin America, the Middle East, and South Africa. The report is peppered with the words "weaker" and "slower" and "below."
Once again, it seems, the recovery is stalling. Once again, Europe is giving the world jitters. And once again, investors might be worried that policy makers lack the firepower or the will to boost growth. "Potential growth rates are being revised downward, and these worsened prospects are in turn affecting confidence, demand, and growth today," wrote Olivier Blanchard, the fund's chief economist, in the report. "Increasing potential output, let alone potential growth, is a tall order, and expectations should remain realistic."
The I.M.F. chose not to touch the United States' growth forecast, and the direct risk of Ebola to the United States economy seems vanishingly small. But these two factors — along with the long-standing fears that our stocks were getting too overvalued — have proven enough to send our stock market lower.