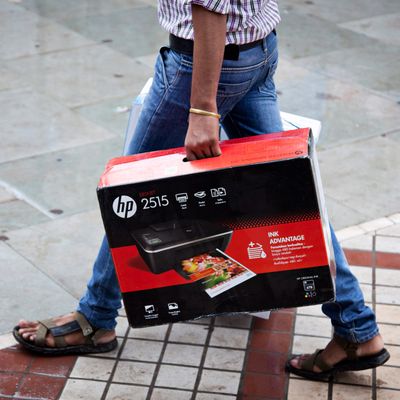 Photo: Graham Crouch/Bloomberg via Getty Images
For years, Hewlett-Packard has talked about splitting itself up. The computer company, which makes, among other things, the ink-jet printer you never use anymore, is too big for its own good. It sells computers and printers, provides cloud storage and other services to businesses, and has roughly 300,000 employees, making it among the largest and most bloated companies in Silicon Valley.
Today, H-P CEO Meg Whitman announced that H-P will, at long last, break into two different companies. One company will still sell computers and printers. The other will handle everything else.
Whitman will be the CEO of the everything-else company, which will trade publicly as Hewlett-Packard Enterprise. She'll hand over the reins to HP Inc., as the printer business will be known, but will remain chair of the board. The company also announced additional layoffs, bringing the total expected number of affected jobs to 55,000. According to The Wall Street Journal, the thinking behind the decision to break in two may have to do with flexibility, and "the idea that companies with a narrower focus perform better."
The H-P split could be the computer world's version of what Rupert Murdoch did with News Corp — spinning off the flagging print publications from the thriving TV operation. In H-P's case, the laggard would be the computer and printer business, whose sales have been slipping as fewer people and companies buy printers and desktop computers. Cleaving that part of the business from the more promising cloud and data-storage business could allow the latter to run more like a scrappy start-up than a 75-year-old computer company.
As happened with eBay's announcement that it would split from PayPal last week, H-P's announcement sent the company's stock up roughly 5 percent. Nobody loves a Silicon Valley breakup like Wall Street.