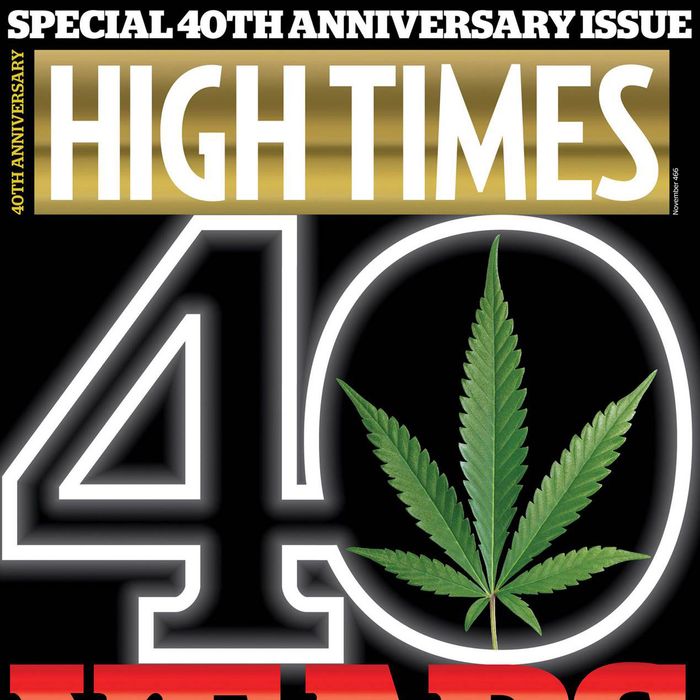 Yes, High Times is still around. Why wouldn't it be?
Founded in 1974 by a drug-smuggling underground journalist named Tom "King" Forçade, the stoner bible, the story goes, was just supposed to be a one-off Playboy parody, with weed instead of women. (There's still a marijuana centerfold in every issue.) But the thing caught on, got serious about its activism, and survived an unfortunate foray into cocaine in the '80s. Last night, the magazine feted its 40th anniversary on the top floor of a Lower East Side lounge decorated with palm trees and pot paraphernalia. Even Susan Sarandon showed up and got into the spirit.
Newly anointed editor-in-chief Dan Skye, a 20-year veteran of the magazine in various roles, wore a suit jacket stamped all over with marijuana leaves. An imposing white-haired man who looks like a more distinguished version of The Dude, Skye couldn't believe security at the venue would dare to ask people not to smoke the stuff we were celebrating. What had they expected?
People lit up anyway, of course, a throwback to the days, before decriminalization and legalization, when running a publication about marijuana was a much more risky proposition. "We're still an outlaw magazine," Skye said in an interview the day before the party. "We're not getting mainstream. We operate outside the law."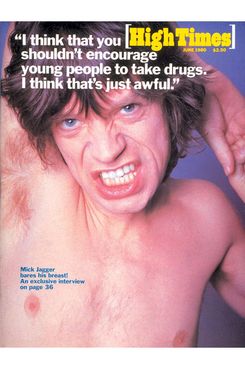 Still, the normalizing of pot culture in America has had its upsides for the brand. "Legalization has absolutely spiked our popularity," said Skye, citing issues this year that are up to 26 pages thicker than last. "Our magazine now is far stronger than it was four years ago."
But as in the rest of the publishing industry, it's not just print. HighTimes.com publishes about ten stories a day and sees up to 5 million unique readers a month, according to Skye, helped along by an updated, BuzzFeed-ification of its pot content (see: "The Greatest Marijuana Gardens of All Time," "The 28 Worst Things That Can Happen To A Stoner," "Can You Pass Danny Danko's October Marijuana Grow Quiz?"). "There's nothing wrong with having fun while you're taking your medicine," said Skye.
And then, like The New Yorker or Vanity Fair, there are the events. "We're a three-pronged company: the website, magazine, and our Cannabis Cups," said the editor, in reference to the roving High Times marijuana festivals that have expanded from Amsterdam to California, Washington, Michigan, and Colorado, where 40,000 people attended the sample-heavy competition over a recent weekend. In 2015, the magazine will host eight editions of the Cup. (Parent company Trans-High Corporation has also started the High Times Growth Fund, looking to make private equity investments in marijuana.)
"It's a pivotal time for High Times," Skye explained. "We've just begun to see the dam break. What we're looking forward to is extending our brand beyond what it is now, because we are the most respected and certainly the most popular brand in the cannabis industry. We may be the only brand in the cannabis industry." But politically, he cautioned, despite some "mammoth" victories, "We are by no means there."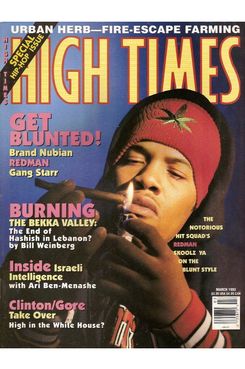 At the party, the mood was much lighter, with less business. "We won," said associate publisher Richard Cusick, a 60-year-old with a long, snowy beard, who got his start at the magazine by interviewing his friend George Carlin "because I needed the money." "My daughter was born when I got this job and she's watched me go from an outlaw to the coolest thing in her freshmen class in college," he said. "I was born to work at this magazine."
Ben Sinclair, the co-creator and star dealer of the hit web series High Maintenance, a more 21st-century touchstone for stoner culture, still has a reverence for his forefathers in the weed revolution. "I feel a kinship with the magazine," he said. "It was very 'eff you' to convention, and they had no regard for how things were done."
"They're a bunch of rascals," he added, expressing the same disbelief as Skye that security would try to stop people from partaking at the party. "It's like asking a cat not to purr. It's gonna purr, baby."
Out on the very crowded balcony, people were purring. The rule enforcers didn't stand a chance as overflowing jars of sour diesel and rollings papers made the rounds, and most were too mellow to even notice a star like Susan Sarandon in their midst. As a former hippie, she said, "High Times was just like the holy catalogue, giving an organized view of something you didn't think of as being organized." But asked for her memories of the magazine over the years, Sarandon couldn't help but be honest: "This is a bad time to be asking someone to remember anything," she said.