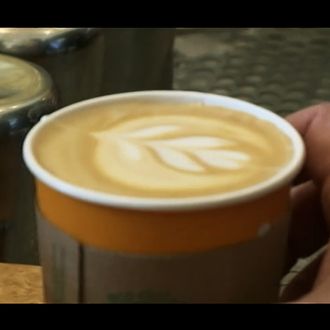 Political campaigning in 2014: When in Colorado, make a weed joke.
Hillary Clinton tried it out on Monday at a Denver coffee shop — an actual coffee shop, not the Amsterdam kind — and it landed with the plop of a true mom (or dad) joke. "Oh my God! Oh my god! Look at this, look at this," she said of the latte art atop her drink (it was a pig). "You got, like, a plant," she told Senator Mark Udall. "Is that a marijuana plant? Ha ha ha ha ha." Ha … Ha. It does not look like a marijuana plant.
"Now I hate to drink it, I'm so excited about the pig," Clinton, who claims she's never smoked the stuff, continued.
"That is really neat. Congratulations," she told the latte artist.
Unfortunately, Hillary attempting to be loose and fun is — dare we say — Romney-esque.