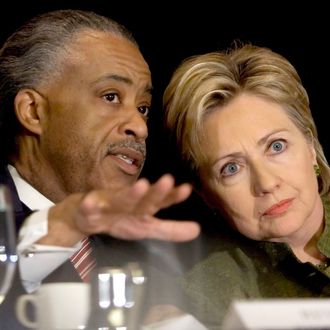 Photo: Stephen Chernin/2007 Getty Images
The Reverend Al Sharpton threw himself a 60th-birthday party on Wednesday night at the Four Seasons Hotel in New York, and he was worried that while perusing his Instagram photos with Aretha Franklin, Spike Lee, Mayor Bill de Blasio, Senator Kirsten Gillibrand, and Governor Andrew Cuomo, people might get the impression that the Clintons had forgotten about his special day. You'll be relieved to know nothing could be further from the truth. Hillary Clinton called Sharpton earlier in the day, according to a tweet from the reverend and a press release issued by his National Action Network, titled "HILLARY CLINTON CALLS REV. AL SHARPTON TO WISH HIM A HAPPY BIRTHDAY."
Sharpton teased the news this afternoon:
Then the National Action Network shared this riveting account of their exchange of pleasantries:
A half hour before going on his MSNBC show PoliticsNation with Al Sharpton, Rev. Sharpton received a call from former Secretary of State Hillary Clinton, who wished him a happy early birthday (Sharpton will be sixty this Friday). Tonight there will be a big party for him at the Four Seasons Restaurant; attendees include: Governor Andrew Cuomo, Senator Chuck Schumer, Mayor Bill de Blasio, entertainer Aretha Franklin, filmmaker Spike Lee and others.

Mrs. Clinton apologized for not being able to attend but wanted to personally talk to him before the event. Rev. Sharpton told Mrs. Clinton, "I will make one birthday vow to you. I will stay on the front lines of civil rights and activism until your granddaughter Charlotte gets old enough to vote." At which they both chuckled.
Phew! We almost thought there wasn't going to be a baby joke and obligatory chuckling.