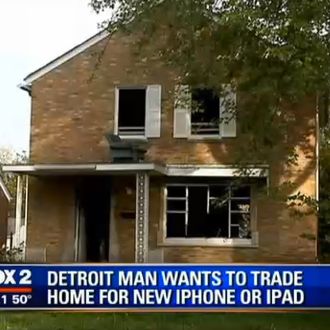 First the owner of a colonial home on the east side of Detroit was willing to offload it for $5,000. Then, acknowledging that it's a real fixer-upper, he lowered the price to $3,000. Now he's willing to just trade the whole thing for an iPhone 6 Plus.
"It's a real listing," the unnamed man's realtor Larry Else told My Fox Chicago. "My client is overseas and he told me he would be willing to trade the property for an iPhone 6. It sounds to me like he wants the (iPhone 6+) version, but I think he's willing to negotiate."
He'd even consider selling it for a 32-gigabyte iPad! But what about other electronics?
"He might be willing to take anything maybe an Android, I don't know, maybe an Android?"
Wow, dude is desperate.