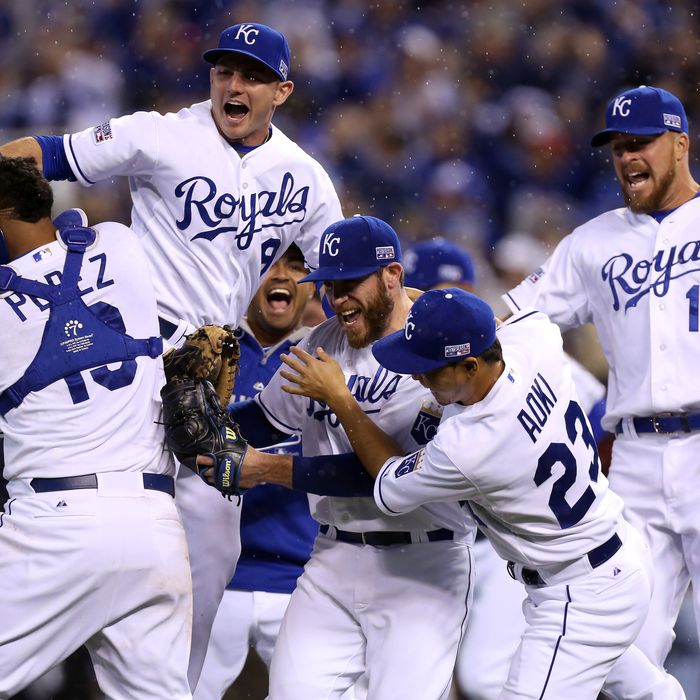 The Royals celebrate their ALDS victory over the Angels.
Photo: Ed Zurga/Getty Images
Until this fall, the Kansas City Royals hadn't reached the postseason since 1985, when they won the World Series with the likes of George Brett and Bret Saberhagen. That 29-year drought was the longest of any team in the big four North American sports, but after a dramatic victory in the American League Wild Card game, a sweep of the Angels in the divisional playoffs, and late-inning victories in the first two games of the American League Championship Series, the Royals are two wins away from a return to the Fall Classic. Here's how they orchestrated their turnaround:
1. They started spending.
Royals owner David Glass had developed a reputation as a cheapskate, and for good reason. In 2011, the Royals had a payroll of just $38 million — less than a fifth of what the Yankees spent that year. (The Royals record in 2011? A weak 71–91.) In the seasons since, though, they've steadily raised that figure: from $64 million in 2012 to nearly $82 million in 2013 to $92 million this year. In 2014, their Opening Day payroll was a middle-of-the-pack 19th, ahead of big-market teams like the Cubs and Mets.
That kind of spending is made possible thanks to MLB's revenue sharing system, designed to allow small-market teams to compete with big-market ones. (A change in the most recent collective bargaining agreement also forced teams to prove they were spending that money on improving their team, and not using it for things like paying down debt.) And though the Royals stood pat at the trade deadline, Glass had even approved a mid-season increase in payroll if his GM wanted to make a move. Money isn't everything in baseball, but it helps to have the flexibility to spend it when necessary.
2. They developed their own talent.
Fourteen players on the Royals roster are homegrown — the most of any American League playoff team. And just two were signed via free agency, the fewest of any playoff team in either league. They've drafted well: Four hitters in their lineup are former first-round draft picks. That allows the Royals to keep their spending down, since players under team control cost less than ones signed via the open market. They've also been able to buy out free-agency years of players like Alex Gordon and Billy Butler, delaying their unrestricted free agency.
3. They went all-in at the right time.
When the Royals acquired pitcher James Shields in a six-player trade with the Rays in December of 2012, many saw it as a huge risk. They sent highly touted prospect Wil Myers to Tampa Bay in the trade, and Shields (the centerpiece of the package they got in return) was only under contract for two more years. GM Dayton Moore sensed the Royals' window of opportunity was opening, and he was right: Last year, they finished above .500 for the first time in a decade, and this year Shields anchored Kansas City's rotation as they earned one of the American League Wild Cards.
4. They mastered the speed game.
This year's ALCS is a study in offensive opposites: The Royals led the majors in stolen bases this year, but were last in home runs. The Orioles, meanwhile, were first in homers but last in steals. Kansas City's speed game was on full display during their Wild Card game win over Oakland, when seven different players stole a base: Nori Aoki, Alcides Escobar, Lorenzo Cain, Terrance Gore, Alex Gordon, Jarrod Dyson, and Christian Colon.
5. They've got a good bullpen (even if their manager doesn't handle it well).
The Royals relievers combined for five Wins Above Replacement this year — most in the majors and more than a win and a half better than the Yankees, who had the second most. The back of their bullpen is particularly strong: Closer Greg Holland recorded 46 saves with a WHIP under 1, while Wade Davis and Kelvin Herrera are effective setup men. One concern: Manager Ned Yost has made some baffling bullpen decisions thus far in the playoffs, and unlike Baltimore's Buck Showalter, who's willing to improvise a bit with his relievers, Yost prefers defined roles for his closers, regardless of the situation.