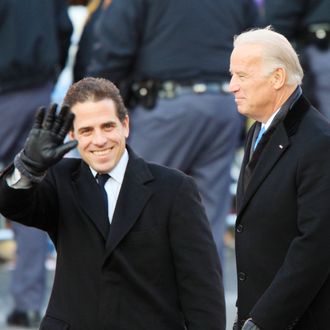 Photo: David McNew/2009 Getty Images
The Veep's youngest son won't lose his Connecticut law license over the drug test that got him booted from the U.S. Navy reserves, according to the state's legal authorities. Hunter Biden was discharged in February after testing positive for cocaine.
Biden works primarily in private equity in Washington, D.C., but he's also admitted to the Connecticut Bar. However, it turns out the state will only automatically review someone's license to practice if they have a criminal conviction. Otherwise, another interested party has to file a grievance to initiate the process. (Biden doesn't appear to be a member of the D.C. bar.)
"At this point, I'm not aware that Mr. Biden has been arrested for anything, and certainly not convicted," said Michael Bowler, the statewide Bar counselor. If only the same standard applied to people who have to get drug tested for their food stamps.