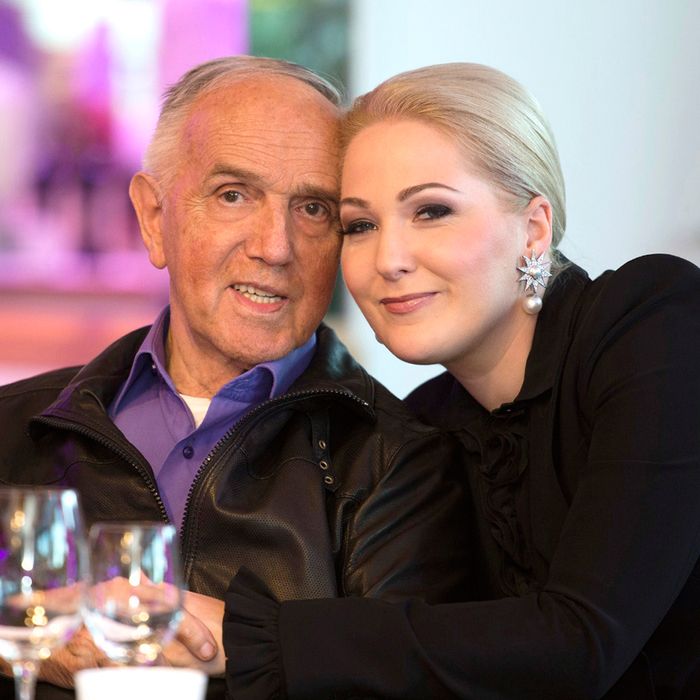 If you are a law-enforcement official in the United States, chances are that you carry a Glock. That has made one Gaston Glock, an Austrian engineer, a very, very wealthy man. 
But Glock also had some other tricks up his sleeve, his ex-wife alleged in an American court this month, filing a bonkers lawsuit involving billions of dollars, shell corporations, phony transactions, an assault in Luxembourg, an expensive horse, a much-younger woman, a guy named "Panama Charly," and a whole lot of guns.
The suit is just one part of a bitter and expansive legal feud triggered by Gaston and Helga Glock's 2011 divorce after half a century of marriage. Helga alleges decades of wrongdoing on Gaston's part — including money laundering, fraud, racketeering, and theft — designed to cut her and her children out of their fair share of the company and its profits. This month, she filed a 300-page lawsuit in a Georgia federal court detailing her complaints and spilling the secretive family's business further into the open. 
The suit starts off with a quote from one of Gaston's associates, Peter Manown, who is named as a defendant.
"Glock is not Snow White. He's got a lot of skeletons … He spends money on mistresses, on houses, on sex, on cars. He bribes people. He's just a bad guy."
He's a bad guy primarily because he is greedy, the suit alleges.
Glock Sr. has always believed that the assets of the so-called "Glock Group" (the patents, trademarks, earnings, profits, real estate, etc.) belong to him: "Alles ist meine!"
In case you did not get that, the suit spells it out for you.
Roughly translated from the German: "All is mine!"
But not at first. Helga's suit gives a corporate history, showing how the family together built the company from nothing into the juggernaut that it is today. That includes some interesting tidbits about the secretive Glock's personal beliefs:
Glock Sr. found a way to overcome his political beliefs, and his Socialism did not prevent him from producing a pistol. Nor did it prevent him from becoming an aggressive and highly successful Capitalist, amassing vast private wealth by selling guns, especially in the United States.
Over time, the suit alleges, Gaston pushed Helga out.
During the course of their marriage, Glock Sr. made it his regular practice to intentionally mislead and withhold information from 
Ms. Glock. Glock Sr. always told Ms. Glock to trust him, and that everything he did was for their family. Ms. Glock trusted her husband.

The purpose of Glock Sr.'s statements was to deceive Ms. Glock into a false sense of security, especially based on their confidential relationship as husband and wife, and to prevent her from learning the truth about the racketeering activities of Glock Sr. and his associates. …

Glock Sr. specifically instructed his bankers not to provide certain financial information to Ms. Glock. Bank statements from the Hypo Group, for example, included the inscription "Achtung keine Auskunft an Helga Glock!!!!" (which may be roughly translated as "Attention, no information to Helga Glock!!!!")
The suit then goes through a dizzying set of corporate transactions over decades, purporting to show how Gaston hid money from Helga. (One imagines that the American authorities might be interested in a closer look at Glock's books given what is in this suit, too.) None of this might have come out, except that Gaston divorced Helga in 2011 and took up with another woman — the insult uncovered the injury, in other words. 
Within a few weeks of the divorce becoming final, in June 2011, Glock Sr. married a girlfriend (his purported "nurse," Kathrin) more than fifty years his junior.
The suit clarifies that "nurse" in quotation marks means "not really a nurse."
On information and belief, Kathrin Glock has no medical training and never
worked as a "nurse," as that term is customarily used.
And there is so much insult in there.
Among other things, Glock Sr. used his personal stash of "fun money" to cavort with women around the world. Here in metro Atlanta, an associate formed and operated several Georgia corporations for the special purpose of owning residential properties purchased with stolen funds, so that Glock Sr. could more conveniently house women away from his wife's notice.

The foundations established for the stated purpose of preserving the Company for the future of the Glock family, and which hold proceeds of Defendants' racketeering scheme, now fund a horse farm, multi-million dollar horses (including a $15 million, 12-year-old horse Glock Sr. bought at auction for his new wife), and lavish events hosted at a state-of-the-art equestrian facility — the Glock Horse Performance Center – which is managed by that new wife. Under the direction of Glock Sr. and his associates, the foundations are also frittering away funds on such medical quackery as "cancer-curing" volcanic ash.
How bad is it, then, lawyers?  
Glock Sr.'s actions towards Ms. Glock and her children, especially in their later and particularly spiteful stages, resemble the senseless and self-destructive rage of Shakespeare's King Lear, when he foolishly mistreats a loyal but candid daughter, Cordelia, in favor of cunning and ruthless flatterers. Perhaps neither pathology nor psychology can provide a satisfactory explanation for why an aging billionaire would spend his twilight years seeking to terrorize members of his own family.
What could compensate for such terrorization? Well, Helga is asking for $500 million.