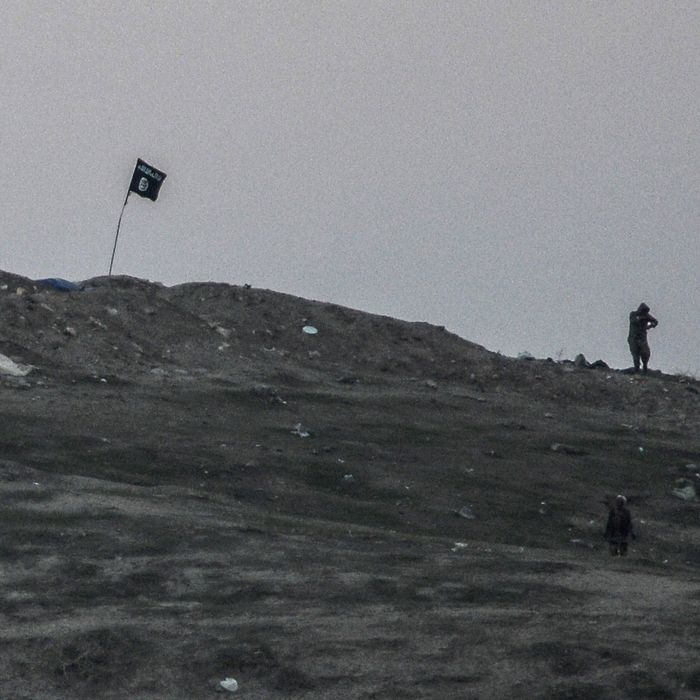 Photo: Bulent Kilic/AFP/Getty Images
U.S. officials are looking into whether ISIS used chlorine gas in attacks against opposition forces following allegations from Baghdad. According to officials, the attack happened in late September against the army and Shia militias north of the city.
ISIS has been trying to advance on the Iraqi capital for months, and the AP reports that this may have been its first use of chemical weapons since they seized large parts of Iraq and Syria earlier in the year. 
Statements from those affected say that the attack included low-hanging yellow smoke, which is typical of chlorine. Several dozen were treated for poisoning, and all of them survived. Chlorine is not as deadly as sarin gas, which is thought to have been used in a chemical attack on a Damascus suburb in August 2013. Most chlorine symptoms end in difficulty breathing, irritation, and coughing.
"We are aware of the reports but cannot confirm details and are seeking additional information," said Alistair Baskey, a spokesman for the National Security Council. "The use of chlorine as a chemical weapon is an abhorrent act.  These recent allegations underscore the importance of our work to eliminate chemical weapons in this volatile region."
The source of the chlorine gas is not yet entirely clear. Some speculate that the militants got concentrated doses of the chemical from water treatment plants in areas it has taken over. However, the militant group has also taken over areas where the remnants of Iraq's abandoned chemical weapons programs are buried in sealed concrete bunkers. Officials are optimistic that the more serious elements found there will no longer be fit for use.