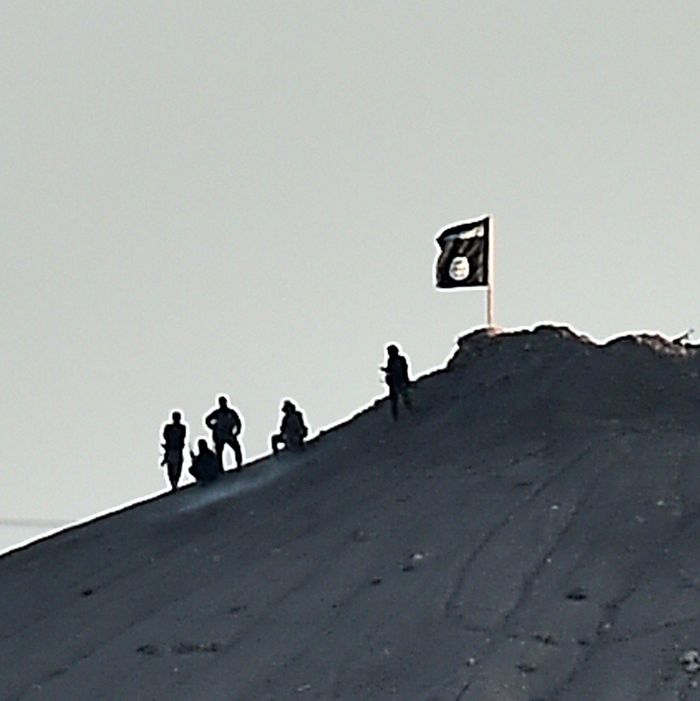 Alleged Islamic State (IS) militants stand next to an IS flag atop a hill in the Syrian town of Ain al-Arab, known as Kobane by the Kurds, as seen from the Turkish-Syrian border.
Photo: Aris Messinis/AFP/Getty Images
U.S. airstrikes continue on Ain al-Arab, a city on Syria's border with Turkey known to its resident Kurds as Kobani. But despite heavy bombardment and ground fighting by Kurdish forces, ISIS militants appear to be gaining on the city, while about 700 elderly Kurds remain trapped inside.
The ISIS assault on Kobani began nearly a month ago. Kurdish People's Protection Unit (YPG) forces were able to keep them at bay for a time, but the Islamic State militants recently began advancing again. By Friday, they'd broken through the YPG's defense at the city's center and taken over the police headquarters and local court. Kobani's leaders told Jenan Moussa, a reporter on the Turkish border, that the militants now controlled up to 40 percent of the city.
Coalition forces carried out two more strikes Friday afternoon, but officials are speaking candidly about their questionable effectivity. "The tragic reality is that in the course of doing that there are going to be places like Kobani where we may or may not be able to be effective," said deputy national security adviser Tony Blinken. Photos allegedly taken from within ISIS-controlled areas show decimated YPG units. (Warning: graphic photos.)
Islamic State fighters, on the other hand, walk around freely, according to videos filmed from within Kobani:
Despite the impending humanitarian disaster, Turkey — the neighboring country where many Kurdish refugees are hoping to escape sure slaughter at ISIS's hands — has been reluctant to engage its armed forces in helping to fend off ISIS. Local security forces have been turning back Turkish Kurds who want to volunteer to fight in Kobani, and officials have refused to increase participation unless coalition forces expressly commit to deposing Syrian ruler Bashar al-Assad as part of the operation. "As long as Assad stays in power, bloodshed and massacres will continue," said foreign minister Mevlüt Çavusoglu. "The Assad regime is the cause of instability, and therefore a political change is necessary."
Kurds and media observers have been monitoring the situation from across the border in Turkey, where they have a clear view of the battle going on in front of them. Earlier this week, ISIS militants seized a strategic hill and raised their black flag atop it. They have also seen many coalition airstrikes but little proof that they're holding the fighters back.
Here's what it looks like from the ground: