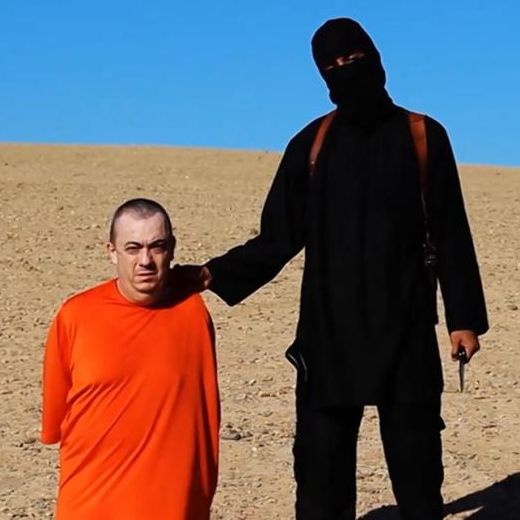 According to a new video lasting just one minute and 11 seconds, the Islamic State militant group has beheaded British aid worker Alan Henning. Henning's life was threatened at the end of a video showing the murder of another British hostage, David Haines.
The new video is titled "Another Message to America and its Allies," and begins with a clip of a newscaster announcing the British parliament's approval of airstrikes against the militant group. As in the other videos, a masked militant speaking with a British accent appears against a desert background with the hostage. The militant is dressed in all black with his face covered, while Henning kneels in the same orange outfit worn by ISIS's other prisoners.
"Because of our parliament's decision to attack the Islamic State, I, as a member of the British public, will now pay the price for that decision," Henning says in an unusually short statement.
ISIS's threats against Henning came under widespread criticism, especially after reports that he had been cleared of espionage charges by an ISIS-founded sharia court. A British Imam known for being a supporter of ISIS, Abdullah el-Faisal was among those who spoke up for Henning, saying that the 44-year-old was a "sympathizer to Muslims."
His wife, Barbara, pleaded for his release earlier this week. "We are at a loss why those leading Islamic State cannot open their hearts and minds to the truth about Alan's humanitarian motives for going to Syria and why they continue to ignore the verdict of their own justice system," she said. "Surely those who wish to be seen as a state will act in a statesmanlike way by showing mercy and providing clemency."
At the end of the video, ISIS shows American hostage Peter Kassig, as the militant addresses President Obama's airstrikes in Syria. Kassig is reportedly a former Army Ranger in his mid-20s, who started an aid group that provided medical supplies and treatment to Syria. Before this video, there were few indications online that he had been missing in Syria.