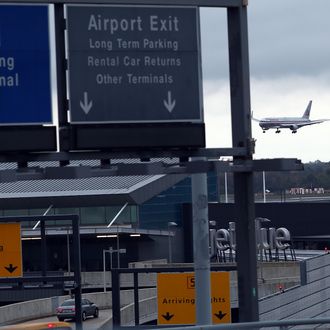 Photo: Spencer Platt/2014 Getty Images
With fear about Ebola spreading in the United States on the rise, JFK airport has started checking travelers arriving from Liberia, Sierra Leone, and Guinea for signs of the virus. The screening process involves taking people's temperatures and questioning them about possible exposure to Ebola in West Africa. Anyone who has a fever or other symptoms will be referred to the Centers for Disease Control, the New York Times reports. Washington Dulles, Newark Liberty, Chicago O'Hare, and Atlanta International will begin following the same protocols next week, as will airports in Europe and Canada. 
Meanwhile, the New Jersey Health Department ordered a mandatory quarantine for all members of the NBC News crew who worked with Ashoka Mukpo, the freelance cameraman who contracted Ebola in Liberia. (He's now receiving treatment in Nebraska.) According to Reuters, the team "had agreed with New Jersey health officials to sequester themselves upon return to the United States but then failed to do so." While there have been no reports of any symptoms among the group, they will now be "confined" until October 22. 
Back in New York, a Brooklyn 14-year-old who recently traveled to Sudan was rushed to Brookdale University Hospital after he "spiked a fever and was complaining of feeling fluish," the New York Daily News reports. (It's worth noting that Sudan has not been affected by the current Ebola outbreak.) The teen was isolated from other patients at the hospital, where tests later showed that he did not have the virus, an NYPD spokesperson said.
So, Ebola is still not in the greater New York City area. It does, however, continue to kill dozens of people a day in West Africa. (There were 121 deaths last Sunday in Sierra Leone alone.) As Dr. Irwin Redlener, the director of the National Center for Disaster Preparedness at Columbia University and a de Blasio adviser, explained to the Times, "While the screenings might catch a few cases … the focus needed to remain on battling the disease at its source and reacting quickly and effectively to new cases when they appear."