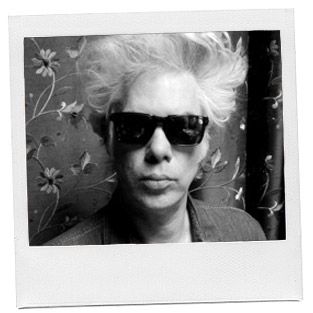 Name: Jim Jarmusch
Age: 61
Neighborhood: Lower East Side/Hudson Valley
Occupation: Filmmaker and musician. The 1983 film Burroughs: The Movie — of which he was the sound-recordist — will be screening at the New York Film Festival tomorrow, October 9, at 9 p.m.

Who's your favorite New Yorker, living or dead, real or fictional?
I'll give you two, both still living: Robert Frank (though born in Switzerland). He's a great gift to the world, and New York has kidnapped a part of him, part of his life. As it has Ornette Coleman (though born in Texas), whose lyrical elegance continues to astound me, another great gift to the world.
What's the best meal you've eaten in New York?
The most comforting recently was at Three of Cups on First Avenue: a Caesar salad (hold the anchovies) followed by penne alla vodka with a glass of Champagne.

In one sentence, what do you actually do all day in your job?
Other than the boring details of film financing, licensing, etc. I hunt — in the forest of interesting ideas. I love to be in the world and to just go hunting.

What was your first job in New York?
I was a moving man but was fired when a Le Corbusier glass table was shattered — not my fault. After that I was a process server for Legal Aid.

What's the last thing you saw on Broadway?
I don't go to Broadway shows.

Do you give money to panhandlers?
As Walt Whitman advised, I always try to help people out on the street a little. Especially musicians — I consider them to be the magical people among us.

What's your drink?
Water. The greatest drink on our planet is a clear, cool glass of water.

How often do you prepare your own meals?
I mostly wash the dishes and clean up.

What's your favorite medication?
I'm not really into medications. I'd rather read a book.

What is the best thing in or about your apartment?
Art and things friends have given me — then my books, music, DVDs, and musical instruments.

What's the craziest thing you've ever seen on the subway?
Very young and dangerous-looking gang members communicating only with sign language.

When was the last time you stayed out past 3 a.m.?
I guess late last year when Mick Jones and Paul Simonon were in town promoting the release of the Clash box set.

Which do you prefer, the old Times Square or the new Times Square?
The old one. More Lou Reed, less Walt Disney.

What do you think of Mayor de Blasio?
I am suspicious of all politicians, especially those who get elected.

What do you hate most about living in New York?
The noise level is getting to me, and the traffic, and everyone's endless quest for money is a real drag.

If you could banish one person from New York forever, who would it be?
New York is a free port — no one should be banished. U.S. out of NYC!

When's the last time you drove a car?
A few days ago.

Finish this sentence: The NYPD _____.
… Carry weapons and wear dark-blue uniforms.

Times, Post, or Daily News?
Times on Tuesdays for the science section and Fridays for arts and listings.

Where do you go to be alone?
I go into the woods in the Catskills looking for animals and mushrooms.

What makes someone a New Yorker?
I guess being born in Zurich or Fort Worth.