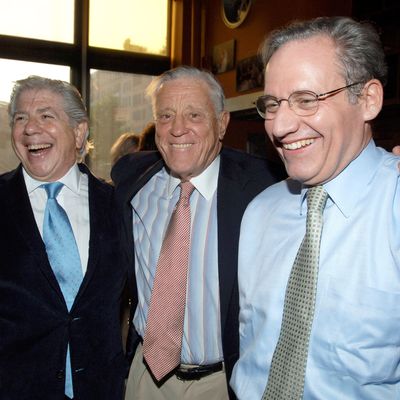 Carl Bernstein, Ben Bradlee, and Bob Woodward attend a screening of
All the President's Men
at the Tribeca Cinemas on July 19, 2005.
Photo: Brad Barket/Getty Images
Following the news of his death at the age of 93 on Tuesday, Washington Post editor Ben Bradlee got a rare tribute from President Obama. "For Benjamin Bradlee, journalism was more than a profession — it was a public good vital to our democracy," said the president. "The standard he set — a standard for honest, objective, meticulous reporting — encouraged so many others to enter the profession." There was also an outpouring of praise for Bradlee from the field he transformed. "No one compares. He was the editor of the 20th century," said Bob Woodward, who worked under Bradlee while reporting on Watergate. "His passing, in a way, marks the end of the 20th century." Here's how journalists paid tribute to the legendary editor.
Martin Baron, Washington Post executive editor:
Ben Bradlee has made an indelible mark on history and on our profession. His spirit has been an inspiration to generations of journalists, demonstrating what our profession can achieve when it is led with courage and an unwavering commitment to truth. As we mourn his passing, we remain guided by the high standards he set in building one of the world's greatest newsrooms.
Bob Woodward and Carl Bernstein:
Ben was a true friend and genius leader in journalism. He forever altered our business. His one unbending principle was the quest for the truth and the necessity of that pursuit. He had the courage of an army. Ben had an intuitive understanding of the history of our profession, its formative impact on him and all of us. But he was utterly liberated from that. He was an original who charted his own course. We loved him deeply, and he will never be forgotten or replaced in our lives.
Jill Abramson, former New York Times executive editor:
Ben had total joie de journalism. It oozed from every pore. No one had more fun chasing a big story and no editor made the chase more fun. He wrote his first newspaper story at age 15 as a copy boy for the Beverly Evening Times in Massachusetts. But the reporter was a born editor and during his tenure at the Post the paper won 23 Pulitzers, doubled its staff and nearly doubled its circulation. The Bradlee period was truly a golden time.
Bob Schieffer, host of CBS's Face the Nation:
Everything a great editor should be; curious, fair, a great leader and most of all, courageous. He also had a wonderful sense of irony and a deadly sense of humor which made him fun to be around. All of us in journalism owe him for the example he set and all of us as citizens owe him for the difference he made.
Tom Brokaw, NBC News anchor:
In the new forms of journalism we'll not likely see his kind again — just as there will never be another Babe Ruth, Sinatra or Hemingway.
Ezra Klein, Vox editor-in-chief:
Bradlee was better than virtually anyone else from his generation at being liked, but he built his legend — and his paper — because he was willing to be hated in service of journalism. "As long as a journalist tells the truth, in conscience and fairness, it is not his job to worry about consequences." he wrote in 1973. "The truth is never as dangerous as a lie in the long run. I truly believe the truth sets men free." A lot of editors write things like that. But Bradlee really believed it, and he proved it, again and again. He took all his magnetism and all his enthusiasm and all his genius for people and turned it to inspiring journalists to do the best work of their lives, and he protected them while they did it, even when the risks were overwhelming.

It seems obvious, now, that an editor would sooner die than give up on the kind of stories Bradlee got, but that's because Bradlee got those stories, fought through to their end, and became a legend for it. It could have gone another way, and under a lesser editor, it would have.
David Remnick, The New Yorker editor-in-chief

I don't pretend to have been anything more than a flea in Bradlee's universe. I was just another young reporter who arrived at the Post in Bradlee's post-Watergate period, when he was preposterously famous but maybe a little bored at times, knowing that he had accomplished the big things that he was going to accomplish.

In 1986, as a reporter for the Style section of the paper, I was working on a piece about Daniel Patrick Moynihan, who was then fifty-nine and the senior senator from New York. Moynihan was an unusual specimen—funny, intellectual, eccentric. He was also, as the Times columnist Russell Baker put it, "a convivial imbiber of spirit and grape" [Bradlee summoned Remnick to his office, letter from the senator's office in hand, and asked, "So what's all this about Moynihan and the booze!" ]

"Well, I've been reporting a lot and calling … " And blah, blah—in my nervousness I went on, explaining the intricacies of reporting to Ben Bradlee for three or four minutes. And to Bradlee, who had the attention span of a gnat, this was three-quarters of eternity. Finally, I ended the ill-advised aria with the most ill-advised words of all: "… and so don't worry."

The soles of his shoes parted. He sat up in his chair. I could see his face, and he was, for a moment, a threatening sight. And then he smiled, fantastically, and said, "What! Me? Worry? I am a dangerous man." He led me back to the door. "So get the fuck outta here," he said. "And get back to work."
Kevin Sullivan, Washington Post senior correspondent:
It was impossible to compliment Ben, because he would never take credit for anything and he would always steer the conversation to someone else's successes. And God help you if you complained about something because Ben would always make his little violin motion if he thought you were whining. It was much more fun to make him laugh, to bust him about something and get that big Ben smile and that spectacular single-digit salute. Any day with Ben was a good day, and every day without him will be a little smaller.