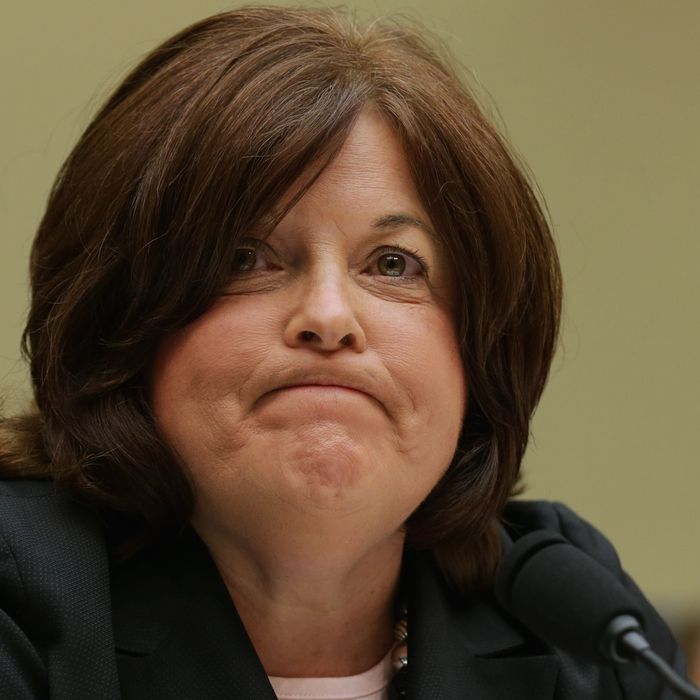 Photo: Chip Somodevilla/Getty Images
Julia Pierson is out as the director of the Secret Service following story after story in recent days about the agency's shocking incompetency, including the one about a man running wild through the White House with a knife. Department of Homeland Security Secretary Jeh Johnson announced her predictable exit in a statement: Today, Pierson "offered her resignation, and I accepted it," he said. "I salute her 30 years of distinguished service to the Secret Service and the Nation."
Pierson, the agency's first female director, who took over in 2013 and was supposed to fix things following the Secret Service's prostitution scandal, has since presided over 42-year-old Iraq veteran Oscar Gonzalez's invasion of the president's home. Earlier this month, after hopping the White House fence, Gonzalez blew by multiple guards and through two doors before being tackled by an agent who was off-duty and just happened to be around to save the day.
"I do not think the security plan was properly executed," said Pierson yesterday in front of the House Committee on Oversight and Government Reform. "I take full responsibility. What happened is unacceptable, and it will never happen again."
But Secret Service whistleblowers continued to leak humiliating agency info, like the time just three days before Gonzalez, when President Obama was allowed to ride in an elevator with a security contractor who also happened to be a gun-toting felon. While Pierson told the House hearing that she alerted Obama "100 percent of the time" he'd been put at risk, the elevator incident had not come up.
"Congress has lost confidence in my ability to run the agency. The media has made it clear that this is what they expected," Pierson told Bloomberg News in an interview following her resignation. "I can be pretty stoic about it, but not really. It's painful to leave as the agency is reeling from a significant security breach."