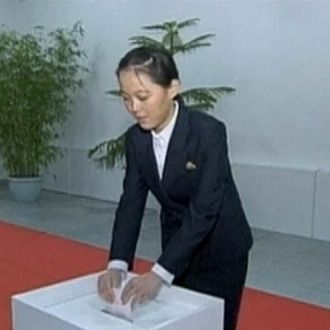 North Korean leader Kim Jong-un is still missing from the public sphere amid rumors that the pleasantly plump dictator has gout from eating too much of his beloved Swiss cheese. But never fear — it's not like this will open the reclusive country up to democracy or anything. Observers say that his younger sister, Kim Yo Jong, has stepped in to fill the void.
Kim Jong-il's youngest child is believed to be managing the country while her 31-year-old brother, last seen in public on September 3, is battling "discomfort," a vague term used by a regime mouthpiece publication. Both Kim kids were born to one of their father's mistresses and educated in Switzerland. Records have given her year of birth as 1987 or 1988, so she's definitely a millennial.
"She is one of the only people in [North Korea] that we know has unfettered direct access to KJU," North Korean elite-watcher Michael Madden told GlobalPost. "At the present time I would not be surprised if she is sole gatekeeper."
Though she took a backseat to other officials for much of her life, Kim began appearing as a senior official in March, presumably stepping up for her executed uncle. But experts don't believe she'd stage a coup because she's believed to be loyal to her brother. (She could also get her own turn at the top if his health problems persist.)
"Kim Jong-un is not a micromanager," said Madden. "It's very possible she could be running a lot more things than we think."
A win for feminism? Or just proof that women can be terrible, too.