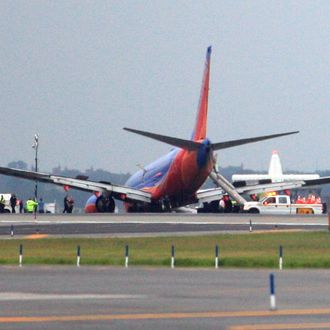 Photo: Andy Jacobsohn/2013 Getty Images
About 200 Air Serv employees at La Guardia's Terminal D have staged a strike amid concerns about the spread of Ebola. Air Serv workers are responsible for cleaning the cabins of aircrafts between flights.
The strike started Wednesday night and is supposed to last for 24 hours. The workers say they're regularly exposed to gross bodily fluids left behind by plane passengers, and they don't have the necessary protective gear to fend off Ebola.
Airplane workers will attend an infectious-disease training session today that was scheduled after OSHA received a report detailing workers' ongoing safety complaints.