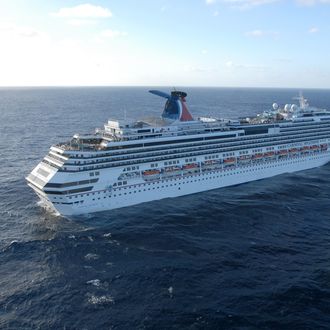 Photo: U.S. Navy/2010 U.S. Navy
The Ebola cruise is over — or, rather, it never even began. On Friday, the State Department revealed that a Dallas hospital lab worker who "may have had contact with clinical specimens collected" from Ebola victim Thomas Eric Duncan was aboard a 3,690-passenger Carnival cruise ship in the Caribbean. Unsurprisingly, people freaked out, and the unnamed woman isolated herself in her cabin. On Saturday, a helicopter landed on the ship's deck to collect her blood samples so they could be tested for Ebola.
On Sunday, Carnival announced that she had tested negative for the virus. Come Monday, the hospital lab worker will have lived 21 symptom-free days since her possible contact with the infected fluids, which means she will no longer need to monitor herself for disease. Also on Sunday, the Carnival Magic docked in Galveston, Texas, as scheduled so she and her fellow travelers could get off the boat.
It sounds like a dream vacation, in the sense that nightmares are also dreams.