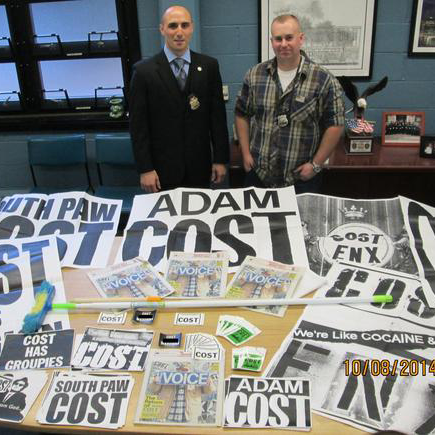 Adam Cole, better known as Adam Cost or just COST, was arrested on Sunday the way all legendary street artists should be: in the Meatpacking District at 4 a.m., covered in "goopy paste," next to his Porsche Cayenne. The NYPD is trumpeting the bust in a proud press release, complete with the cheesy photo op above, telling the story as if they caught Al Capone. 
Cost, who was big in the '90s and returned not for the first time to much fanfare last year, has popped up lately around the city in the form of his signature wheat-paste posters. "The tags I saw recently appeared to be pretty fresh," said NYPD Sixth Precinct officer Colin Sullivan. "Everyone in my unit was aware of what this guy looks like. I've been boring these guys to death with Adam Cost pictures."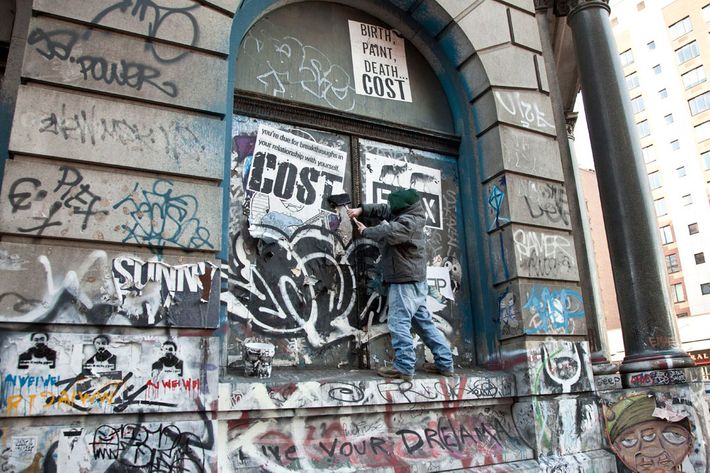 It finally paid off over the weekend, when a man who "who fit [Cost] to a 'T'" was spotted carrying a pole and a wet brush in Manhattan. Glue drums and brushes were found inside the luxury vehicle. "This stuff is impossible to get off the wall," Officer Sullivan said in the announcement. "That's why it's so expensive to remove."
For all the trouble caused, Cost was charged with a handful of misdemeanors (criminal mischief, making graffiti, possession of a graffiti instrument) and a nonviolent felony (property damage over $250), none of which will send him to jail.