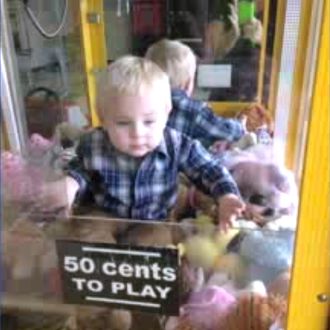 The grandmother of 18-month-old Colin Lambert took her eye off her grandson for less than a minute to read her text messages, but that's all the time it took for him to climb inside the toy claw-machine at a laundromat in Tennessee. Hey, it looks like a pretty comfy place to nap.
"All I could see was his feet, he had already called [sic] in," Dianne O'Neill told Fox 6. "I grabbed his feet and he kicked my hand and he got in climbed up and over glass partition and sat down in the toys."
Colin had to be rescued from the machine by local firefighters, but his grand plan worked: They let him keep one of the toys from the vending machine. Typical millennial, getting rewards even when they misbehave.