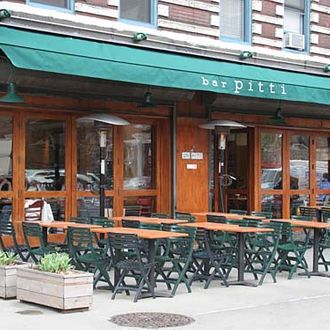 Something really strange and fairly scary happened at Greenwich Village's Bar Pitti on Friday night: Just before 6 p.m. a man wearing an American flag T-shirt and a baseball hat emerged from a Sixth Avenue subway grate and threw a smoke bomb into the outdoor seating area of the expensive, often celebrity-filled restaurant. "I saw him come out — it was like Ninja Turtles," a manager at neighboring Da Silvano told the New York Post. 
CBS 2 reports that a Bar Pitti employee picked up the device, which emitted a red but "not noxious" smoke, and hurled it back outside. The suspect then went back through the grate and disappeared underground. 
Nobody was hurt, but diners — including Rose McGowan — were understandably freaked out. 
"First thought was ISIS, with everything going on," a Long Island woman told CBS 2. And, as a witness who spoke to NBC New York pointed out, the incident didn't exactly inspire confidence in the secureness of New York's subway system. "I guess they're going to have to do more security or something, right?" asked Monica Vickers. We'll see! In the meantime, the NYPD is still looking for the guy, who was described as blond and in his 30s. We hope they find him, if only so we can hear his motive.