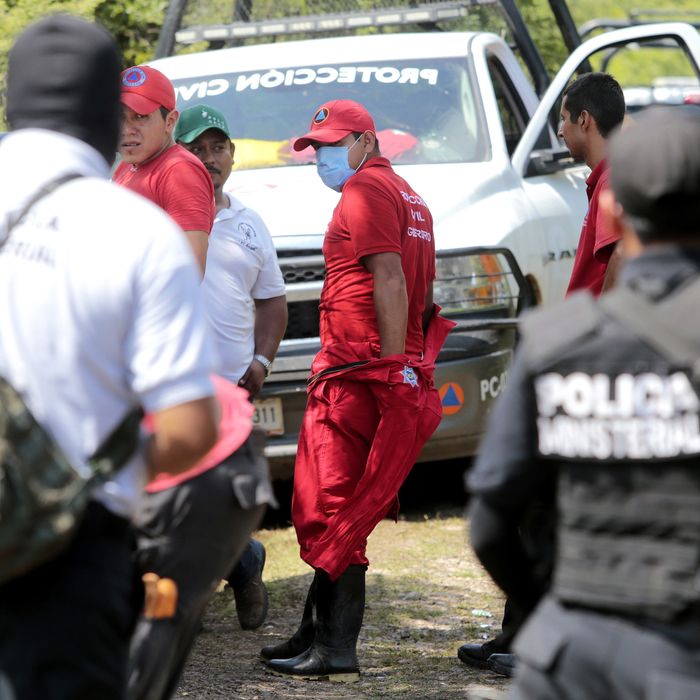 Photo: Pedro Pardo/Getty Images
Government forces in Iguala, Mexico, think they may have found some of the 43 students missing since late September, in a mass grave containing 28 burned bodies. The lead suspects in the deaths are the city's local police, leading the federal government to disarm the force and take over the city's security.
The students have been missing since September 26, when they were thought to be in Iguala gathering money for an October 2 demonstration against school funding cuts. According to the New York Times, the school in question "has long played a role in local social justice movements," and protests have turned violent in the past.
But they encountered the police even before the protest, and six people were killed during the September 26 confrontation. At least 22 officers have already been arrested on charges related to the violence, and both the city's mayor and police chief have fled the city after being subpoenaed. Many of the officers are thought to be tied to a local gang, Guerreros Unidos (Warriors United). The government is still working to figure out whether the 28 bodies in the mass grave belong to any of the missing students.
Hit men have confessed to being involved in 17 other deaths and have implicated city officials in the process.
Mexico is no stranger to gang- and drug-cartel-related violence. A site called El Blog Del Narco, run by an anonymous blogger, tracks the gruesome day-to-day violence. After the officers' arrests, messages from the Guerreros gang suggested it was about to get worse in Iguala. A banner in the city demanded the release of the officers within 24 hours, or there would be consequences. "The war has started," it read.