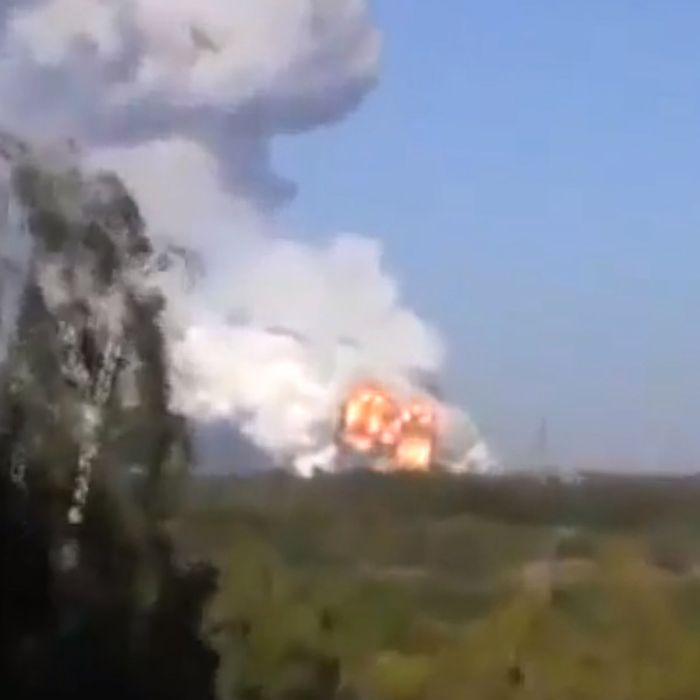 A powerful explosion hit the eastern Ukrainian city of Donetsk on Monday, the latest sign that the cease-fire between government forces and pro-Russian separatists is more of an aspiration than a reality. But it's the exact location of this particular blast that is worrying most Ukrainians: It reportedly hit the Donetsk State Chemical Products Factory.
Ukrainians are no strangers to explosions with long-ranging side effects — and to not getting the full story from their leaders. (Ahem, Chernobyl.) In videos, residents can be heard shouting at one another to get indoors as they film the ongoing explosion and commenting on the spread of the cloud.
According to the Interpreter, the secondary explosions seen on film are likely "to be caused by explosive chemicals igniting due to the fire ignited by some prior cause, which may be shelling or indeed a missile strike."
So far, no deaths have been reported in the explosion, which occurred a little after noon local time.
The following shock wave reportedly blew out windows several kilometers away and damaged a fancy stadium for a local football team. According to a statement from the city council, some neighborhoods saw whole window frames knocked out by the blast. 
As always, both sides have denied responsibility for the incident. Some reports by pro-Russian media say the blast was caused by a Scarab B missile, known to be used by Kiev against rebels in the southeast.