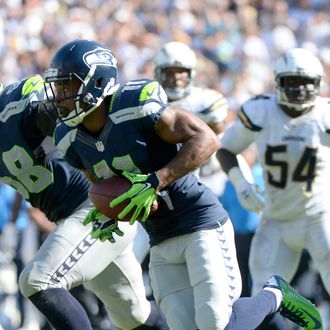 Percy Harvin.
Photo: Harry How/Getty Images
The Jets, whose loss last night dropped them to 1–6 on the season, have reportedly traded for wide receiver Percy Harvin in a surprise deal. Pending a physical, the Jets will get Harvin in exchange for a conditional draft pick. Harvin dealt with injuries during his first season with Seattle last year, but played in two playoff games, including Super Bowl XLVIII, in which he returned a kickoff for a touchdown to help the Seahawks win their first title. The 2009 offensive rookie of the year, Harvin spent the first four years of his career in Minnesota, where he caught 20 touchdown passes and was named to one Pro Bowl.
Harvin hasn't been terribly effective so far this season: Of the 22 passes he's caught, half have come from behind the line of scrimmage, and he's averaging just six yards per catch. (He did have a 41-yard touchdown called back because of a penalty.) Seattle seemed unsure how best to use the speedy Harvin (sample headline from just yesterday: "Seahawks working to expand Percy Harvin's impact").
Harvin is signed through 2018. Via ESPN, the six-year, $67 million contract he signed in 2013 includes $25.5 million in guaranteed money.