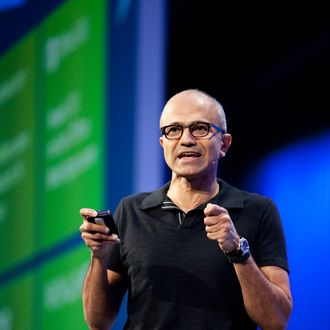 We'll be honest: Professional yeller and former Microsoft CEO Steve Ballmer left some pretty big shoes to fill. But the struggling tech company's newest CEO, Satya Nadella, has wasted no time getting his name into the headlines. Of course, in typical Microsoft fashion, it's for all the wrong reasons.
ReadWrite reports that during a speech at the Grace Hopper Celebration of Women in Computers on Thursday, Nadella offered some sage, The Secret-esque advice to women hoping to close the gender wage gap.
"It's not really about asking for a raise, but knowing and having faith that the system will give you the right raise," he said to an audience primarily composed of women. "That might be one of the initial 'super powers,' that quite frankly, women (who) don't ask for a raise have. It's good karma. It will come back."
That's right, ladies: If you calmly and quietly trust in the men who run the company to give you what you deserve, it shall become yours.
Now, if you'll excuse me, I have to throw a penny in a wishing well while whispering the word raise.
Update: Nadella attempted to explain in fewer than 140 characters.