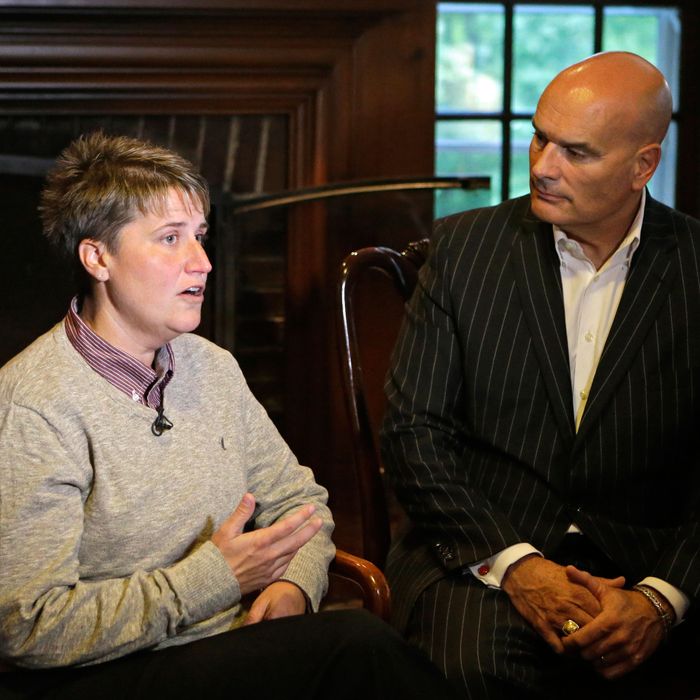 Photo: Mark Duncan/AP/Corbis
Ohio resident Jennifer Cramblett and her partner, Amanda Zinkon, decided to bring a baby into their lives back in 2011, using some help from Donor 380 at the Midwest Sperm Bank in Chicago, Illinois. But, Cramblett's new suit against the bank alleges, they were instead provided with sperm from Donor 330 because of a mixup in the handwritten notes. And Donor 330 happens to be black, while both Cramblett and Zinkon are white.
Now Cramblett and Zinkon are parents to a 2-year-old girl named Payton. Because of the mixup, Cramblett says they've suffered serious harm, including the fact that "the thought, care and planning that she and Amanda had undertaken to control their baby's parentage had been rendered meaningless." Plus, the women live in a small, all-white community, and have to travel elsewhere to get little Payton's hair done. A therapist even suggested they move somewhere more diverse, for the child's sake.
What's most confusing, from the suit, is that Cramblett appears to have verbally confirmed with a Midwest Sperm Bank employee that they were sending her Donor 380 — which should have stopped the mistake before she got pregnant, even if the initial, handwritten records did make the 380 look like a 330 in the sperm bank's forms. Not so, as they learned when they called to reorder 380 so that the child Zinkon would later carry could have the same donor as the one birthed by Cramblett.
The most surreal part of this story, though, must be that in most cases, parents may never have found out. This couple only did because they reordered the donor. If they'd only wanted one baby, and if Donor 330 were also white, they may have had their baby without ever finding out. 
According to the suit, the women seem most upset about how they were allegedly treated by Midwest after the bank realized the error, and love the little girl very much — despite racist relatives and the fact that Cramblett didn't know any black people until college. And yet, how will little Payton feel when she looks the suit up in 15 years and sees that one of the claims was "wrongful birth"?
Let's mark this case as a major point for electronic patient records, please.