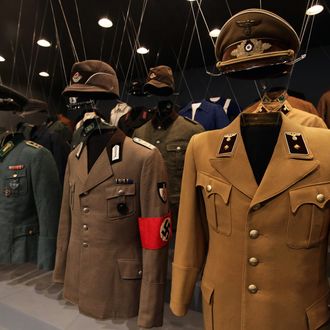 Photo: Andreas Rentz/2010 Getty Images
According to an Associated Press report that could serve as the inspiration for a far less exciting follow-up to Inglourious Basterds, the Justice Department persuaded Nazi war criminals to leave the United States quickly and quietly by allowing them to continue receiving Social Security payments. In 1979, the Justice Department's Office of Special Investigations was tasked with forcing Nazis who immigrated after World War II out of the country. The deportation process could take up to ten years, so OSI allegedly bargained with the suspects, pointing out that, because of a legal loophole, they could keep their Social Security benefits if they fled to another country and renounced their citizenship before being deported.
The Justice Department denies that payments were used as an incentive in the process nicknamed "Nazi dumping," but the AP found that since 1979 at least 38 of 66 suspected Nazis removed from the U.S. kept their Social Security payments. Over the years they collected millions in benefits, and at least four alleged Nazis are still living in Europe on U.S. Social Security.