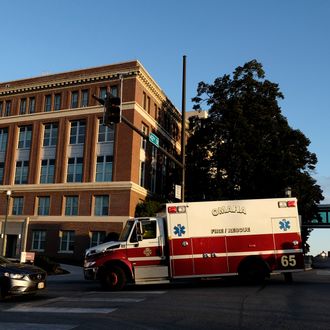 An ambulance carrying Mukpo arrives at the Nebraska Medical Center on October 6.
Photo: Eric Francis/2014 Getty Images
Ashoka Mukpo, a freelance journalist who was working as a cameraman for NBC News, is no longer infected with Ebola and will be released from a Nebraska hospital on Wednesday morning. The 33-year-old was evacuated to the U.S. on October 6 after contracting the disease while covering the outbreak in Liberia. A blood test conducted by the CDC on Tuesday confirmed that there is no trace of the virus in his blood. "Recovering from Ebola is a truly humbling feeling," Mukpo said in the statement. "Too many are not as fortunate and lucky as I've been. I'm very happy to be alive."
Mukpo frequently took to Twitter while being treated in Nebraska Medical Center's biocontainment unit, and he announced the diagnosis in a series of tweets:
Mukpo received a blood transfusion from another American Ebola survivor, Dr. Kent Brantly. He was also given the experimental drug brincidofovir, which has yet to be tested in animals as an Ebola treatment. The journalist is now free to return to his home in Rhode Island.