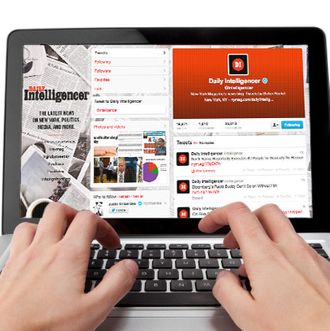 Welcome back to the New York Magazine Competition. On alternate Mondays, we lay out a challenge and offer a sample responses. Enter in the comments section, or on Twitter with the hashtag we've provided, and the editors will select a winner. Criteria are highly subjective, but heavily retweeted and favorited posts will have an advantage. The prize is a year's subscription to New York in print or a two-year subscription to the iPad edition (winner's choice). Full rules are here.
COMPETITION NO. 33: MY FAVORITE BAND'S GETTING OLD. Please rename a well-known band to reflect its advancing age. For example:
Matchbox 80
They Might Be Tired
Rage Against the Noise Level in This Restaurant
Mumford and Grandsons
Enter in the comments thread below, or on Twitter with the hashtag #agingbands, by October 29.
RESULTS OF COMPETITION NO. 32: FALL-TV HAIKU, in which you were asked for a five-seven-five poem about the new television season.

HONORABLE MENTION TO:
Who asked for Bad Judge?
When is True Detective back?
I'll just Netflix that.
—Classicist
O, college football!
My wife so loathes thy presence,
She makes me watch Glee.
—bradley.markham
Who knew Chris Pratt would
become Hollywood A-list?
Goodbye, Parks and  Rec.
—Csh147
ZOOM! CRASH! New shows have
Big, awesome special effects!
(I squint at my phone.)
—jhartarl
SVU without
Elliot is like Happy
Days without the Fonz.
—@debfreedman1
New "Weekend  Update,"
New map. The blue part here is
Lit'rally the land.
—captrenault
Boardwalk Empire,
Homeland, and The Walking Dead:
I just stopped watching.
—RealityCzech
Big Bang has  entered
an alternate  universe:
No center, no edge.
—jimczajka
Viola Davis
getting away with murder
sounds like fun  to me.
—jdoucette
Brooklyn Nine Nine's like
Car 54, Where  Are You?
Oh, God. I am old.
—KattsDogma
New shows on this fall?
Who still  watches them in fall?
Binge-watching, bitches!
—FlirtySanchez
AND THE WINNER IS:
I'm not gonna buy
Another damn subscription
To see Transparent.
—@davegoldenberg