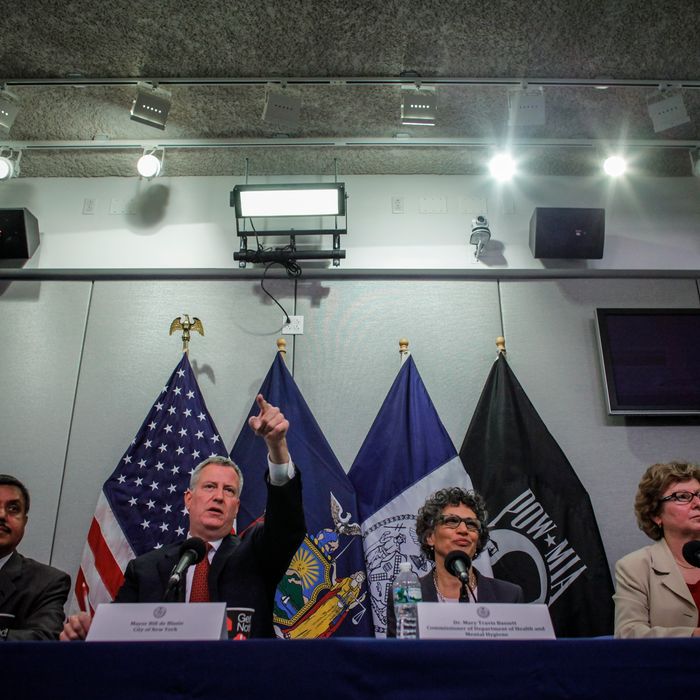 Photo: Kena Betancur/2014 Getty Images
On Thursday night New York started grappling with the medical challenges of Ebola. But as if that weren't complicated enough, the disease's arrival in the state has set off some political drama too.
Early Friday afternoon, Mayor Bill de Blasio held a press conference detailing increased monitoring of travelers who have recently been in Sierra Leone, Liberia, or Guinea. Two hours later, Governor Andrew Cuomo went a large step further, announcing that New York would begin automatically quarantining medical personnel returning from Ebola-stricken countries through JFK.
There were few details about how the quarantine process would work. Cuomo genuinely cares about protecting the public, but he also seemed to be trying to seize the stage. His talk of casual transmission of Ebola on the subway could stoke fears, and the quarantine risks being counterproductive by slowing the flow of aid workers to Africa. The policy shift also blindsided de Blasio.
There have been other, less visible differences in the state and city responses. On Friday morning, Dr. Howard Zucker, the state health commissioner, told me that since October 14, his department had been using Centers for Disease Control information about arriving passengers to stay in touch with travelers who'd arrived from West Africa's danger zone and then gone to destinations upstate. Through Wednesday, Zucker said, the state was aware of eight such people; none had become sick.
Dr. Craig Spencer, however, had remained in Manhattan and Brooklyn after arriving at JFK on October 17 — so Spencer was legally the responsibility of the city's health department, which did not actively track the asymptomatic. "The city has been following the CDC protocols, which were symptom-based, to the letter. If someone was not showing symptoms, the contagion risk did not exist," City Hall press secretary Phil Walzak says. "As the CDC has elevated those protocols, so has the city. Out of an abundance of caution, we are going back to monitor people who arrived as much as two weeks ago." Fortunately for the city, its first Ebola victim is a responsible citizen, a heroic doctor who'd apparently been taking his own temperature twice a day and alerted the authorities at the first sign of trouble.
Both the state and the city did good, aggressive work preparing for the inevitable arrival of this nasty disease — including distributing information in New York's West African communities and readying high-tech isolation units in hospitals. Thursday night's press conference at Bellevue was thorough and engendered public calm by reiterating how difficult and rare it is to contract Ebola.
But the decisions about whether to monitor travelers are unlikely to be the last tough calls de Blasio and Cuomo need to make in this saga. Staying on the same page, medically and politically, would make things slightly easier.