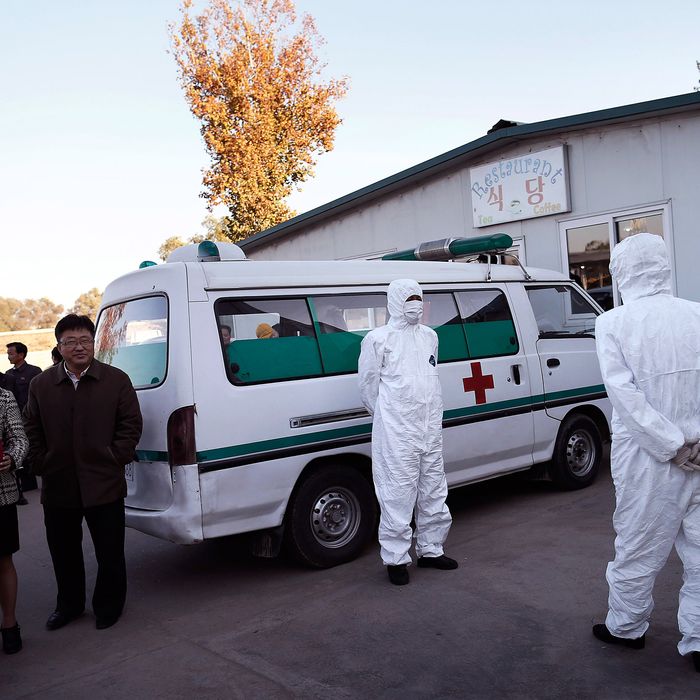 Photo: Wong Maye-E/AP/Corbis
Because banning all tourist visits was apparently not enough to reassure reclusive North Korean leader Kim Jong-un that, no, he will not get Ebola, the country has now decided to quarantine any and all of the few visitors it does allow into the country. And in North Korea, there's no CDC to urge them to pull back on the panic.
The new policies will create separate quarantine areas for visitors from affected and unaffected countries, but they will all be quarantined. Diplomatic staff and members of international organizations get a little perk and will be allowed to remain in their homes. (A diplomatic delegation from Japan, for example, was reportedly greeted by people in full hazmat gear.)
According to AP reports, state-run television in North Korea is taking care to publicize the symptoms of Ebola, which has been transmitted only a handful of times outside of the affected countries in Africa. (The other cases were exclusively medical professionals who cared for the very ill.) It also touts increased travel restrictions and monitoring of visitors — not that most of North Korea's rare visitors have any sort of contact with its impoverished masses.
"Our army, which protects our borders, has a high responsibility to block the disease," a local official told the television network. "We are strengthening quarantine education and thoroughly inspecting boats and planes to ensure that not even a single person carrying the disease enters our country."
The most interesting aspect of this story may be a reminder of just how many countries still maintain diplomatic relations with North Korea. The U.S., with its strict anti-Kim stance, is in the minority — more than 150 others still have relations with the dictatorship.