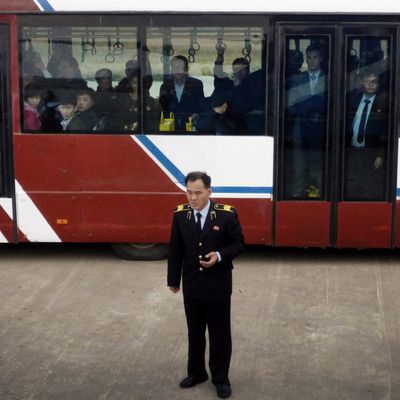 Photo: Wong Maye-E/Corbis
Better get a refund on your guided tours to North Korea, folks: The reclusive country is barring all foreigners from entry starting Friday, out of increasing concerns over the spread of the Ebola virus.
"Three days ago, they said that anybody who's been to West Africa would have to provide a doctor's certificate stating that they don't have Ebola," Gareth Johnson, the owner of a company that runs tours to North Korea, told the New York Times. "And then today, they just said no foreign tourists at all." Another tour operator noted that in 2003, the country had also barred visitors over SARS fears. State-run media has not yet announced the ban.
Although the country has had exactly zero Ebola scares, foreign tourists pose pretty much the only risk of anything ever getting into North Korea, as regular citizens are not allowed to take vacation trips abroad. (Even if they were, they probably couldn't afford it.)
About 6,000 Americans go on guided tours to the country each year, despite the fact that it is currently holding two U.S. citizens and refusing to release them. A third, Jeffrey Fowle, was released Tuesday, months after he was arrested for leaving behind a bible in public. It's not yet clear whether the Ebola ban will also apply to diplomatic visits.