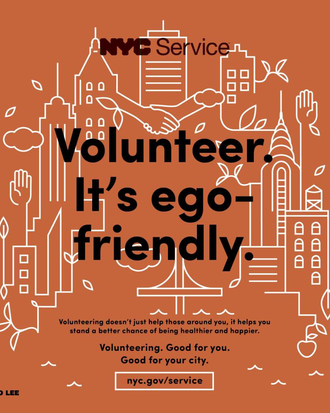 Only 18 percent of New Yorkers do any volunteering at all, so the city has resorted to stroking some egos.
A new subway ad campaign from city hall's NYC Service agency, which aims to get at least half of New Yorkers to do something worthwhile for someone other than themselves, includes sad slogans like "Tutor some kids, school your colleagues" and "Volunteer. It's ego-friendly." Because we are all monsters.
"Since we're trying to attract those who are not volunteering, we thought it was important to emphasize both sides, that it's good for you and good for your city," said Mayor de Blasio's chief service officer Paula Gavin. Unfortunately, she hasn't considered the possibility that we're entirely immune to guilt, as well.