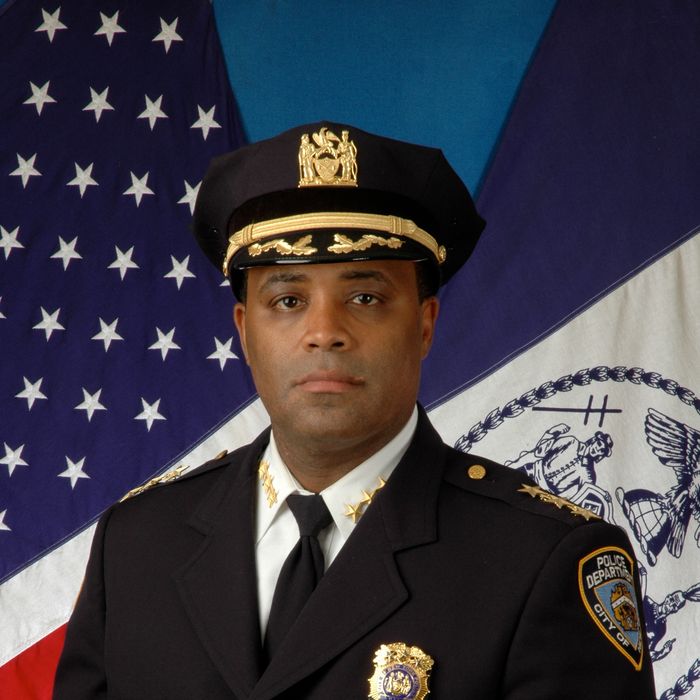 Philip Banks III, the NYPD chief of department who was set to become first deputy commissioner on Monday, has instead stepped down, according to reports. "He came in and indicated that after careful consideration and discussion with his family he was going to respectfully not accept the promotion and instead submit his resignation," said Police Commissioner Bill Bratton at a press conference this morning. "He was gonna be my right hand man."
"He indicated that it was a personal decision as much as professional," said Bratton of Banks, the highest-ranking black officer at the department, but speculation about the reasons is already rampant.
From NBC New York:
Sources familiar with his decision to resign tell NBC 4 New York it comes amid ongoing friction between Bratton's regime and the previous one under Ray Kelly. He agreed to take on the high-profile role just days ago.

The sources say that top NYPD brass have been resistant to Bratton's ideas in part because there are still too many "Kelly guys" around. Banks, a 28-year NYPD veteran named chief of the department last year, is one of those "Kelly guys," the sources said.
Banks told those close to him that he'd met with Bratton earlier this week and was told the NYPD brass planned to beef up the scope of the No. 2 job — which had been largely whittled into a figurehead job under former NYPD Commissioner Ray Kelly, sources said.

Among the new responsibilities were having oversight of the chief of department's office, which oversees all the NYPD's operations, sources said.
However, Friday morning, Banks met with Bratton yet again and was told that was not the case, sources said. He abruptly resigned in response, sources said.
Banks had been set to be promoted Monday to first deputy commissioner — the number two job in the department — but clashed with Bratton because he wanted more responsibilities than were given to outgoing First Deputy Rafael Pineiro, according to law-enforcement sources.
Banks reportedly wanted to step down last week but reconsidered when Mayor de Blasio called him personally. After he submitted his resignation this morning, Bratton and Banks joined de Blasio for a chat at City Hall, according to the Post.
"The police commissioner just lost a top Latino officer, Rafael Pineiro, and now Banks. We have a predominantly minority city, but there's lack of minority leadership now at the top of the police department," a police source said.