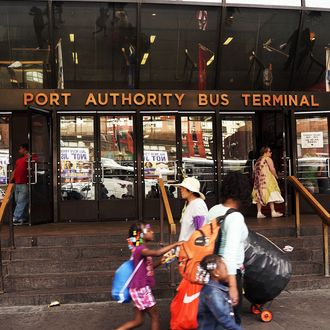 Photo: Spencer Platt/2014 Getty Images
Be advised that the "broken windows" policy now extends to taking too long at the urinal. According to a service-y report from the New York Times, there's been a sevenfold increase in public-lewdness arrests in the Port Authority Bus Terminal, with police increasingly accusing people of masturbating in the second-floor men's room. The Legal Aid Society represents about a dozen of the 60 people arrested this year, and they say their clients were mostly just urinating, but an overzealous police officer decided they should pee faster.
Three of the accused say their arrests followed a similar pattern: A man, who they later learned was a plainclothes officer, watched them while using an adjacent urinal, gave them a strange look, then left the men's room. "So I look over and see someone is smiling at me. It was like a smirk," said Miguel, who was arrested in July and asked to be identified only by his first name. He was arrested outside the bathroom and claims the officer would only say, "Oh, you know what you did," when he asked why he was being taken into custody.
Captain John Fitzpatrick, the Port Authority police commander, insists arrests are only made when officers clearly witnessed an act of public lewdness. "They are not sidling up to somebody, trying to sneak a peek and misrepresenting what the person is doing," the captain said. "There is no mistaking their behavior."
While the Times reports, "The bathroom is hardly a hotbed of sexual activity," some believed they were targeted because they were gay. Cornell Holden, another defendant, said that after his arrest he heard a police officer refer to his plainclothes colleague as "the gay whisperer."
The gross bathroom in the back of the bus suddenly seems like a better option.