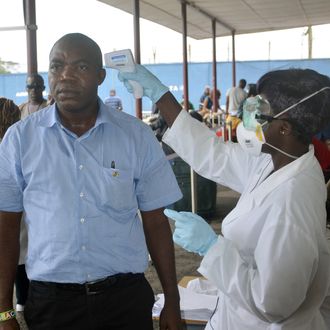 A passenger leaving Liberia is screened on Agust 27, 2014.
Photo: ZOOM DOSSO/AFP/Getty Images
Since the first Ebola patient was diagnosed in the United States, prominent Republicans like Louisiana Governor Bobby Jindal and Senator Ted Cruz have raised the possibility of banning air travel from Ebola-stricken countries, though public-heath officials have repeatedly said that would only make the situation much worse. Others in the GOP have been calling for increased screening procedures at airports, and on Monday President Obama said he agrees (though he didn't put it that way). After being briefed on the government's response to the epidemic, Obama told reporters that officials are "going to be working on protocols to do additional passenger screenings both at the source and here in the United States."
While shutting down travel between the U.S. and West Africa sounds like an obvious way to contain the virus, public-health officials have pointed out that restricting air travel would stem the flow of supplies and medical volunteers into countries where they're desperately needed.
Plus, all passengers in the affected countries are already screened for Ebola before departing for the U.S. Travelers complete a health questionnaire, are visually screened for signs of illness, and have their temperature taken prior to boarding. According to a government fact sheet, "If a person has a fever above 101.5 or is suspected to be ill, the passenger will be taken aside for a more detailed health assessment – a secondary screening - to determine if he or she should be isolated." Customs and Border Protection personnel check passengers for "overt signs of illnesses" upon landing.
Obama called the Ebola crisis "a top national security priority" but didn't give any specifics on how screening procedures will be changed. He added that he's "confident" that the chances of the epidemic taking hold here are "extraordinarily low" and pointed to the incident over the weekend at Newark Airport as a sign that current efforts are working. "In recent months we've had thousands of travelers arriving here from West Africa, and so far only one case of Ebola's been diagnosed in the United States," he said.