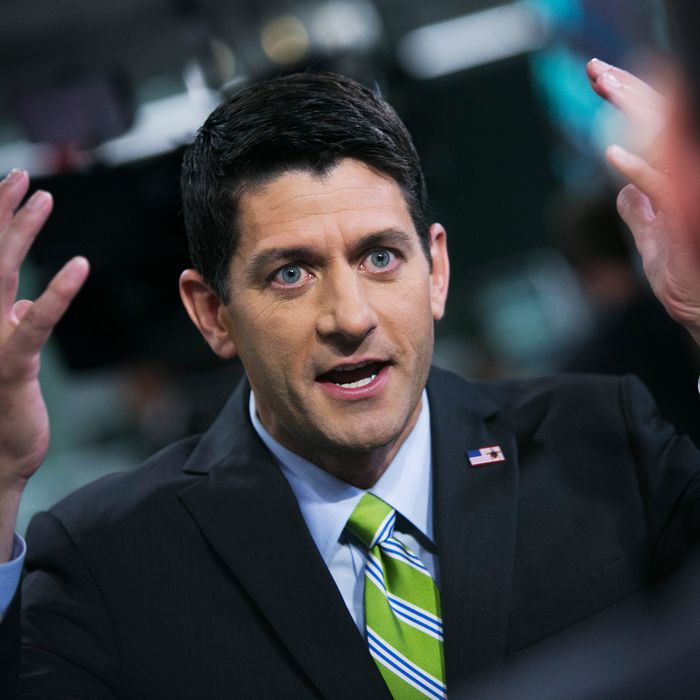 I've been trying to tell you this! Why won't anybody listen? I am mad as a hatter!
Photo: Scott Eells/Bloomberg via Getty Images
During a debate last night for his election to the House, Paul Ryan was asked if he believes that human activity has contributed to global warming. "I don't know the answer to that question," he replied, "I don't think science does, either."
In fact, science does know the answer. Climate scientists believe with a 95 percent level of certainty (the same level of certainty as their belief in the dangers of cigarette smoking) that human activity is contributing to climate change. There are things science knows, and this is one of them. Scientists may not have the answer to what policies are appropriate for responding to the fact that greenhouse-gas emissions cause changes to the environment, but they can tell us what happens when we release heat-trapping gasses into the atmosphere.

This is another way of saying that Paul Ryan is a nut. His ideological fantasies prevent him from accepting even basic scientific facts. He is, to be sure, a lucid nut, rather than a raving nut who accosts passersby on street corners. Ryan has spent his life imbibing the tenets of right-wing-movement thought, and he can apply the concepts he has learned to nearly any topic. The long-standing existence of nuts in American politics is by no means a solely right-wing phenomenon. Robert Kennedy Jr. has a famous name and wears nice-looking suits and is a nut as well, who argues that vaccines cause autism.
So while nuttery can be found on the left and right, it is not a bipartisan problem at the national level. Kennedy has never risen above the level of "activist." If the Democrats let Kennedy write their party-policy manifesto, or gave him a spot on their presidential ticket, it would be very, very alarming. But Ryan is in a party where this sort of thing barely even attracts attention.