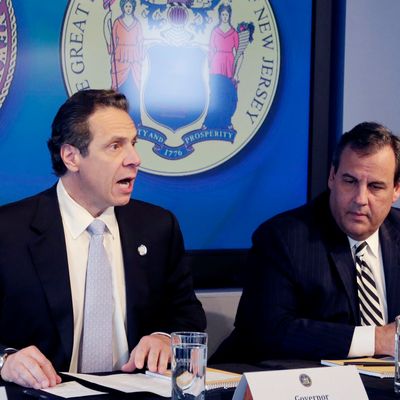 Chris Christie and Andrew Cuomo's new airport policy doesn't seem to be winning them many friends. On Friday, Kaci Hickox, a nurse from Maine, became the first person to be subjected to the rule, which requires Newark Liberty and JFK travelers who were exposed to Ebola in West Africa to be placed under a 21-day quarantine. Hickox quickly published a scathing essay about her experience at Newark's airport and University Hospital, where she's being forced to stay even though she has tested negative for Ebola and does not have any symptoms of the disease.
"I am scared about how health care workers will be treated at airports when they declare that they have been fighting Ebola in West Africa," wrote Hickox, who spent the last month caring for Ebola victims in Sierra Leone. "I am scared that, like me, they will arrive and see a frenzy of disorganization, fear and, most frightening, quarantine."
On Sunday, Hickox did an interview with CNN from inside the medical tent where she is being kept. The tent lacks a flushable toilet and a shower, and Hickox said cell-phone reception there is poor. She doesn't have access to her luggage and has only been given scrubs to wear.
"This is an extreme that is really unacceptable, and I feel like my basic human rights have been violated," Hickox told Candy Crowley. She also had harsh words for Christie, who described her as "obviously ill." (Initial reports that she had spiked a temperature turned out to be false.) "I'm sorry, but that's just a completely unacceptable statement in my opinion. For [Christie] — a politician who's trusted and respected — to make a statement that's categorically not true is just unacceptable and appalling." She continued:
"Everyone keeps asking how I'm feeling physically, and of course I'm fine physically, but I don't think most people understand what it's like to be alone in a tent and decisions are being made that don't make sense and show no compassion," Hickox said, starting to cry.

"I just feel like fear is winning right now, and when fear wins, everyone loses."
CNN reports that Hickox's lawyer, former NYCLU director Norman Siegel, plans to file papers in court demanding a hearing for his client. "The policy infringes on Kaci Hickox's constitutional liberty interests," he said. "The policy is overly broad as applied to Ms. Hickox and we are preparing to challenge it on her behalf."
And Hickox is far from the only person displeased with New York and New Jersey's mandatory quarantines. "[The CDC] is not happy," an unnamed federal official told CNN. "These two governors said, 'Take this, federal government.' They're very worried we won't be able to get physicians or nurses to go [to countries affected by the Ebola outbreak]." Meanwhile, an (also unnamed) New York City official called the rule (which undermined Mayor de Blasio's own response) "a real stunner." "They did this without consulting the city, and that's not a good thing," that person added.
Doctors Without Borders noted the "lack of clarity" on how exactly Christie and Cuomo planned to enforce the policy:
"We are attempting to clarify the details of the protocols with each state's departments of health to gain a full understanding of their requirements and implications," MSF said.

"While measures to protect public health are of paramount importance, they must be balanced against the rights of health workers returning from fighting the Ebola outbreak in West Africa to fair and reasonable treatment and the full disclosure of information to them, along with information about intended courses of action from local and state health authorities."

"Ebola is a public health issue and the government's response should be driven by science and facts and not by fear. We must treat our medical workers who put their lives at risk, and are the only ones who can contain this epidemic, with compassion and not like criminals. Coercive measures like mandatory quarantine of people exhibiting no symptoms of Ebola and when not medically necessary raise serious constitutional concerns about the state abusing its powers. By forcibly detaining people we are also frightening the public and may deter genuinely sick people who fear quarantine from seeking the treatments they deserve, while also discouraging caregivers and first responders from helping sick patients who need their assistance. This is a challenging time for New Jersey, but decisions must be made based on sound medicine, and not on fear. Governor Christie must provide more information to the public about how the state came to the conclusion that mandatory quarantine of our healthcare workers was medically necessary."
Finally, President Obama's United Nations ambassador, Samantha Power, told Meet the Press that, like the others, she is worried that New York and New Jersey's actions will discourage medical professionals from traveling to West Africa to fight the Ebola outbreak. "All of us need to make clear what these health workers mean to us and how much we value their services, how much we value their contribution," she said. "We need to make sure they are treated like conquering heroes and not in any other way."
That's certainly not what Christie is doing. "We've taken this action and I have absolutely no second thoughts about it," he said on Sunday.
Update, 6:40 p.m.: Late Sunday afternoon, the New York Times reported that the White House is "pressing" Christie and Cuomo to adjust the mandatory-quarantine policy: " … Top Obama administration officials have been speaking with Mr. Cuomo daily and have also been in touch with Mr. Christie, trying to get them to modify the order." An anonymous "senior administration official" also told the Times that Christie and Cuomo's actions were "uncoordinated, very hurried, an immediate reaction to the New York City case that doesn't comport with science."
Update 10:35 p.m.: With Mayor de Blasio by his side, Governor Cuomo announced on Sunday night that the quarantine rule will be loosened in New York. People who had contact with Ebola patients in West Africa but do not show symptoms will be allowed to stay in their homes during the mandatory 21-day quarantine. Family members can stay in the home, too, and friends can visit with the approval of health officials. Quarantined people will be visited twice a day by local authorities and will be compensated by the state if their employer won't pay them during the three-week period.
People returning to New York from West Africa who didn't have direct contact with Ebola patients will not be quarantined, but health officials will check in with them twice a day for 21 days.
Cuomo sent out a fact sheet that provides the first detailed explanation of how the quarantine will work:
New York's policy still goes further than what is recommended by the federal government, and Cuomo explained, "My personal practice is to err on the side of caution. When asked about being pressured by the White House to change the policy, Cuomo said, "I have had none."
Update, 11:04 p.m.: Christie had this to say following Cuomo's announcement:
It appears that Hickox would be allowed to go home if she lived in New Jersey, but she's stuck in a tent because transporting her back to Maine was not deemed "feasible."
The fact sheet released by Governor Cuomo says that if an asymptomatic person who had direct contact with Ebola patients arrives in New York, "they will be transported by private vehicle (arranged by the New York State Department of Health or local health department) to their homes where they will be quarantined for 21 days." The policy says nothing about out-of-state residents, but notes, "For those without homes, other accommodations will be made."