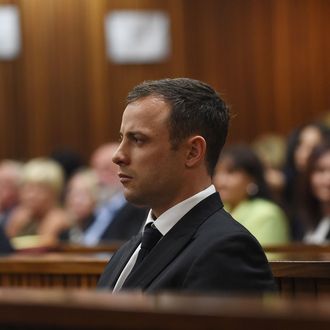 Photo: Phill Magakoe - Pool/Independent Newspapers/Gallo Images/Getty Image
For shooting his girlfriend Reeva Steenkamp through the bathroom door, Olympic track star Oscar Pistorius has been sentenced to five years in prison. He was convicted by a judge of "culpable homicide," or manslaughter, in South Africa's juryless system last month, in a drawn-out and internationally watched trial, but he was not found guilty of more serious murder charges. Because of the nature of the crime, Pistorius's defense claims he must only serve one sixth of his sentence and could therefore be moved to house arrest in less than a year, the New York Times reports.

Nonetheless, Pistorius, who has spent the long trial out on bail in a mansion, will spend tonight in prison.
The Times explains the sentencing quirks:
But some South African legal experts said the conversion of prison time to house arrest was not automatic and required negotiations with the correctional authorities. After serving half the sentence, Mr. Pistorius can also apply for parole.
Steenkamp's family was "satisfied" by the ruling. "I'm just glad it's over," said Reeva's mother.