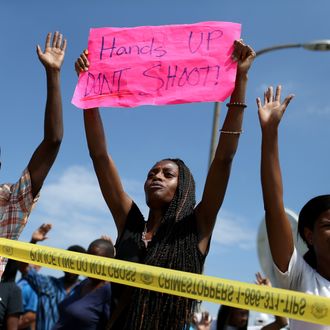 Photo: Joe Raedle/2014 Getty Images
While family members say Vonderrit Myers Jr. was only holding a sandwich when he was fatally shot by a police officer last week, sparking protests in St. Louis, on Tuesday the police department released evidence that it says corroborates the officer's claim that the 18-year-old shot first. According to the St. Louis Post-Dispatch, the department said the Missouri Highway Patrol crime lab found gunshot residue on Myers's hands, shirt, waistband, and jeans pockets. Residue merely proves Myers was near a shooting, but police say it was only found on his right hand, and the officer was standing too far away.
The off-duty police officer, who was moonlighting as a security guard at a private residents' association, claims Myers and two friends fled when they saw him. After a chase, Myers allegedly fired at least three shots at the officer. He returned fire, killing Myers. Police say three bullets found on the ground near where the officer was taking cover match the victim's gun.
At a press conference following the release of the crime-lab results, Jeff Roorda of the St. Louis Police Officers' Association said cases like Myers's killing and the shooting of Michael Brown in nearby Ferguson, Missouri, are being tried "in the court of public opinion" and "we think there ought to be evidence presented" in that court. He added, "We're done, as a police union, standing in the shadows in these cases."