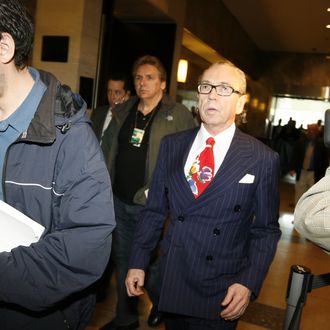 Sanford Rubenstein.
Photo: Pool/2008 Getty Images
The NYPD is looking into a claim that 70-year-old civil-rights lawyer Sanford Rubenstein raped a woman after the two attended Al Sharpton's 60th-birthday party last week. The New York Daily News reports that the accuser is a "high-ranking official at Sharpton's National Action Network." Meanwhile, Rubenstein — a longtime friend of Sharpton's — is best known for winning lawsuits over high-profile police abuse cases, including those related to the torture of Abner Louima and the death of Sean Bell. He is currently representing the family of Eric Garner. "Everyone [at NYPD headquarters] could not be happier about this," a "police source" told the Daily News. It seems safe to assume that everyone else involved feels differently.
According to the Daily News, the alleged victim and another woman went with Rubenstein to his apartment for drinks after the Four Seasons party, though the friend eventually left. At some point, the woman passed out and "awoke in the middle of the encounter to find she was having sex with [Rubenstein], who police suspect may have used an object to penetrate her."
The New York Post reports that the victim woke up in Rubenstein's bed the next morning. After bleeding for a day, she went to Methodist Hospital, where officials called the cops to report a possible sexual assault:
"She passed out and woke to him" violating her, another source said.

"She was knocked out — and that is rape," the second source said, adding that "there are credible aspects of the case and she's credible — but she doesn't remember much."

"She wasn't thinking about it until she realized [at the hospital] that this was a crime . . . She's cooperating" with the investigation, the source added.
Daily News sources say the woman was "a little drunk" when she left for Rubenstein's, while the Post reports that "her case is being bolstered by witness accounts of her extreme drunkenness in the hours before the party." The NYPD is reportedly investigating the incident as third-degree rape, which means the victim was not capable of consenting to sex.
When asked to comment, Sharpton said, "So how do I respond, when you have one person who's a top official who's been very very helpful to us, making an accusation against someone who we've known and we've worked with on several cases? We're in the middle of this." He added, "And I'm going to fight the Garner case, I don't care who the lawyers are." Mayor de Blasio, who was a guest at the party, also weighed in, calling the allegations against Rubenstein "very troubling."
Rubenstein, for his part, issued a statement saying he "vehemently denies any misconduct." NYPD officers were seen searching his apartment on Sunday. No charges have been filed so far.