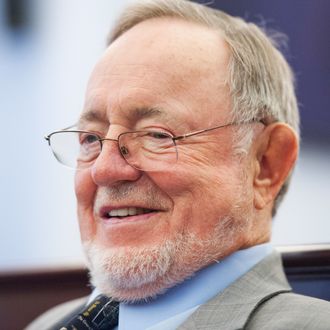 Photo: Tom Williams/Getty Images
Alaska Rep. Don Young is a notoriously strange person, though in the same way that crazy people who are rich are "eccentric," strange people in Congress are "colorful." According to his opponent, Young freaked out at him before a debate earlier this month. "He kind of snarled at me," reported Democratic candidate Forrest Dunbar, "and said, 'Don't you ever touch me. Don't ever touch me. The last guy who touched me ended up on the ground dead."
It is possible that Young merely implied that the last person who touched him went on to die for unrelated reasons. It certainly sounds like a possible murder confession. So colorful!
The next step is surely that Young will explain that he did not actually kill a guy just for touching him, right? (There's no harm in denying that — if somehow it is proven that he did kill somebody, it's not like the voters would forgive him because he refused to lie about it.)
A profile in Roll Call reports, in paragraph 23, that Young and his staff have no official clarification:
CQ Roll Call asked Young about that comment — whether the last person to touch him really did end up dead. The congressman's response: "There's some truth to that."

It's unclear if he was suggesting there was some truth to what Dunbar said, or, more hair-raisingly, if there was some truth to someone ending up dead. Young didn't elaborate, and his press secretary instructed CQ Roll Call to move on.
The good people of Alaska want to talk about the issues, not some esoteric inside-the-Beltway process story about whether their representative in Congress murdered somebody.