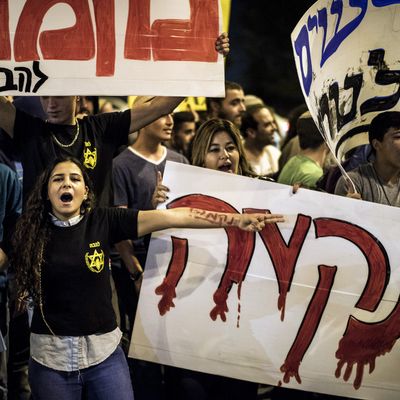 Right wing activist hold signs calling for revenge during a protest on October 23, 2014 in Jerusalem, Israel. The protest took place at the site of the terror attack.
Photo: Ilia Yefimovich/Getty Images
East Jerusalem is far from quiet after a speeding car crashed into a local light rail station yesterday, killing an infant and injuring seven others in an apparent terror attack. Far-right activists have picketed the crash site and called for the resignation of Yitzhak Aharonovitch, the country's public security minister.
At least 12 protestors have been arrested so far. Israeli media has reported Palestinian stone-throwers at other light rail stations across the city.
The baby, 3-month-old Haya Zissel-Brown, has been identified as an American citizen by the State Department. The incident is being treated as a terrorist attack and the State Department has warned employees to avoid the Jerusalem light rail — which runs through Jewish and Arab neighborhoods — for at least the next month. In a statement, they were told, "The current dynamic security environment underscores the importance of situational awareness, especially in crowded public places that may have minimal overt police presence."
The family of the car's driver, Abdel Rahman al-Shaludi, meanwhile, insists that he simply lost control of his car. He died after being shot by police.
Below, some images from the last 24 hours in Jerusalem.