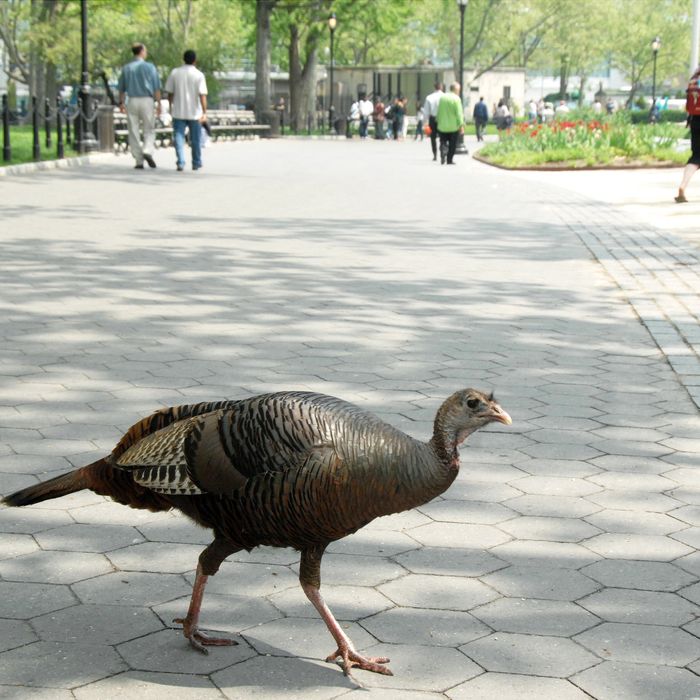 Photo: Susan Watts/NY Daily News Archive via Getty Images
It's the end of an era: Longtime Battery Park resident Zelda was hit by a car near Pier 11 earlier this week, ending her decade of rule at Manhattan's southernmost point.
The wild turkey was thought to be a Bronx transplant who made her way down the isle in the early aughts before permanently settling in the park. Once there, she became a real New York celebrity and even survived Superstorm Sandy. (Her name is a nod to F. Scott Fitzgerald's wife, who, rumor has it, was found in the park after one of her nervous breakdowns.) The Battery Park Conservancy released a statement on her loss:
Zelda made her first appearance on May 5, 2003 when garden designer, Piet Oudolf and 50 volunteers planted the Gardens of Remembrance along the waterfront in honor of all the survivors of 9/11 who had fled to safety through the park.

Zelda became a beloved member of The Battery Conservancy team, taking care to make an appearance at every Conservancy event. Since the first Battery Gardeners' Luncheon in 2003 and her first Battery Gala in 2004, Zelda was seen and photographed mingling among the guests before returning to her favorite trees to roost and watch the lively movement of the park's visitors.
RIP.