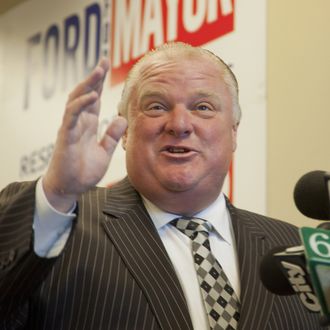 Photo: Keith Beaty/Getty Images
As the admissions of drug use, drunk driving, and generally scandalous behavior piled up over the last two years, it often seemed that Rob Ford would not be mayor of Toronto for much longer. Incredibly, Ford hung on, only to be forced out of office by a surprising misfortune: Last month, he was diagnosed with liposarcoma, a rare cancer of fatty tissue, and bowed out of the race as he began receiving chemotherapy. Now his wild four-year term is officially coming to a close: On Monday night, businessman John Tory was elected mayor of Toronto with 40 percent of the vote. Ford's brother Doug, who threw his hat into the ring after his brother's diagnosis, came in second with 34 percent of the vote.
In a fitting twist, this doesn't mean the end of Rob Ford's political career. On Monday night, the mayor reclaimed his Ward 2 council seat, which he held for ten years. He won in a landslide, though he missed much of the campaign because of his cancer treatments.
Ford said his brother did an "absolutely phenomenal job," and suggested he'll be back in the mayor's office before long. "If you know anything about the Ford family, we never, ever, ever give up," he said. "And I guarantee: in four more years, you're going to see another example of the Ford family never ever giving up." Ford added, "I'll continue to fight. I'm just warming up."