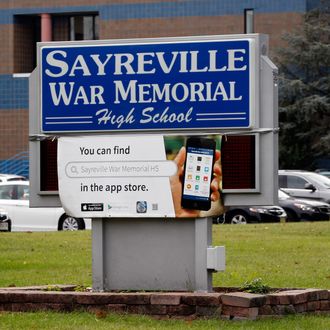 Photo: Mel Evans/AP/Corbis
Although Sayreville War Memorial High School in New Jersey had its entire football season cut earlier this week by the local school superintendent, the exact reasons were not made public. But NJ.com, citing the parent of a player, now has the disturbing details of locker-room hazing that gets, at the very least, uncomfortably close to sexual assault. "It would start with a howling noise from a senior football player," Matthew Stanmyre reports, "and then the locker room lights were abruptly shut off."
In the darkness, a freshman football player would be pinned to the locker-room floor, his arms and feet held down by multiple upperclassmen. Then, the victim would be lifted to his feet while a finger was forced into his rectum. Sometimes, the same finger was then shoved into the freshman player's mouth.
"It was happening every day," the anonymous parent claims. "They would get the freshmen."
Superintendent of Schools Richard Labbe had only called the incidents — currently being investigated by police — "incidences of harassment, intimidation and bullying as constituted by the definition within the anti-bullying statute that took place on a pervasive level, on a wide-scale level, and at a level in which the players knew, tolerated, and in general accepted." Coaches denied being aware of the abuse.
In an unrelated scandal, as noted by Deadspin, one of Sayreville's assistant coaches was arrested last month for possessing 800 mg of steroids and 14 needles, although the man's defense attorney said it had "nothing to do with the football program at Sayreville High School."